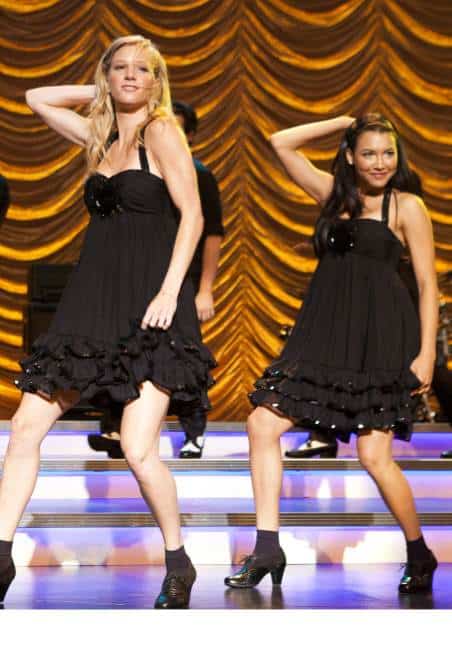 Updated: A ton of new season 3 spoilers have poured in (including some unexpected news about Chord Overstreet not returning next year). To read more, click here.
I don't think I'm the only person frustrated with Glee after the second season. After starting off with a promising premiere last fall, the show seemed to flounder. It continued to be the most inconsistent show on television, but the characters also seemed to have split personalities and the show ventured into public-service announcements instead of being a fun show about music and outcasts.
The second season finale – which had New Directions traveling to New York City to compete in Nationals – ended with the glee club not even making it into the top 10. The kids were unprepared and distracted before their performances and while I thought their performances were good on stage, the judges didn't agree they were good enough.
There were a few bright spots, though. Rachel and Finn got back together (and crazy Quinn seems to have toned down the attitude for the time being), there was an adorable scene between Kurt and Blaine towards the end and – shocker! – Mercedes and Sam seem to be a new couple.
So what's in store for season 3 of Glee? Well, EW got some scoop from executive producer Brad Falchuk.
Sam and Mercedes: An unlikely relationship between these two was hinted in the season 2 finale when we saw them holding hands. Falchuk says this will be explored more in season 3 and the origin of their relationship stems from the recent prom episode.
New York, New York: Rachel spent a lot of time in the Glee finale talking about how she wanted to leave Ohio and go to college in New York. Apparently this will be addressed again in season 3. We know that members of the current cast are close to graduation will eventually depart the show. Will Rachel and Kurt head to New York like they want?
Santana Explores Her Sexuality: The producers aren't rushing the story about Santana coming out of the closet, even though she admitted her feelings to Brittany. They spent a lot of season 2 focusing on Kurt being out and didn't want to throw Santana's own storyline into that mix. Apparently she'll get more of a focus in season 3.
Will and Emma: In the end, the writers decided to focus the Glee finale on Rachel and Finn. A scene was filmed between Will and Emma, but we only saw a glimpse of them together at the end of the finale and the other scenes were edited out. However, with the two of them now single, expect them to get some action with each other in season 3.
New Writing Staff: Until now, there's really only been three writers for Glee – the three co-creators and producers. In my opinion, this actually accounts for most of the inconsistency in the show, because each script (depending on who it's written by), seems to have its own tone for the show and the characters that differ from other scripts/episodes. However, Falchuk says that they plan to hire more writers for next season. There's no telling now how that might affect the show and its tone, but I'm hoping it will result in a more consistent end result.
Updated: For more spoilers about Glee season 3, including which cast members will graduate next year, click here.
Glee will return with its third season in the fall on Fox.
clarissa @ tvovermind.com
twitter.com/clarissa373
twitter.com/tvovermind