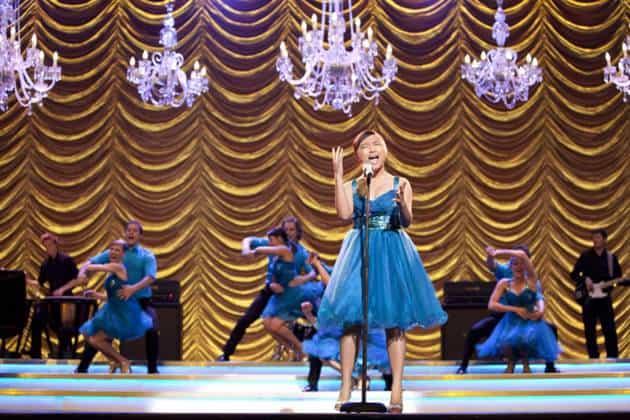 The Glee season finale will be airing on May 24, and after the touching and sad Glee episode last night – featuring the death of Sue's sister, Jean – we're heading to New York City to celebrate Nationals. Complete with trips to famous NYC hot spots and original songs.
Yesterday we posted the promo (here) and photos (here) for the Glee season finale in New York. We also posted five of the songs from the episode here. Now Fox has released a few additional promo photos for the episode, which you can view below.
We have our first look at Charice, who returns as Sunshine Corazon in the season finale. She'll be headlining the Vocal Adrenaline performances. If it's anything like last year's "Bohemian Rhapsody" then I think I'm going to love it. We've also got our first look of the McKinley High glee kids on stage for their own performances, as well as a shot of the guys singing up to someone in a window (complete with Puck holding an accordion).
Glee will be returning for a third season in the Fall, and the cast is going on tour with several live concerts this summer.
Don't miss the season finale of Glee on May 24 at the special time of 9:00 p.m.
[imagebrowser id=1035 template = flipped]
clarissa @ tvovermind.com
twitter.com/clarissa373
twitter.com/tvovermind