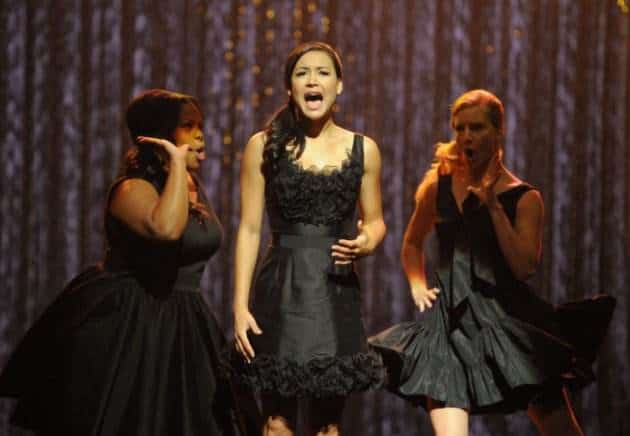 If you thought that a show like Glee would be content with only singing one song for its milestone 300th performance, you would be wrong. Instead, the show has decided to dip into its bag of mash-ups and has successfully put together two songs with varying tempos: Adele's "Rumor Has It" and "Someone Like You".
Glee has also decided to give the 300th performance to Shelby Corcoran's rival show choir, headlined by Mercedes and Santana. The result is a great performance by two singers who don't get showcased enough considering their talent, as well as strong back-ups by a competent group of girls. This performance is fun and upbeat, with the ending trailing off to the soulful lyrics of "Someone Like You".
The November 15 episode of Glee features a little "friendly" competition between Mr. Shue and Shelby's rival glee clubs, but from what we can see in the promo (view it here), the kids aren't taking the "friendly" part to heart. The episode gets even crazier when Puck tells Shelby that he's falling in love with her (yikes!). Finally, Sue ramps up her campaigning for congress, which just so happens to include a smear campaign against her rival.
Watch the performance of "Rumor Has It" and "Someone Like You" below. Don't miss an all new episode of Glee on Tuesday, November 15.