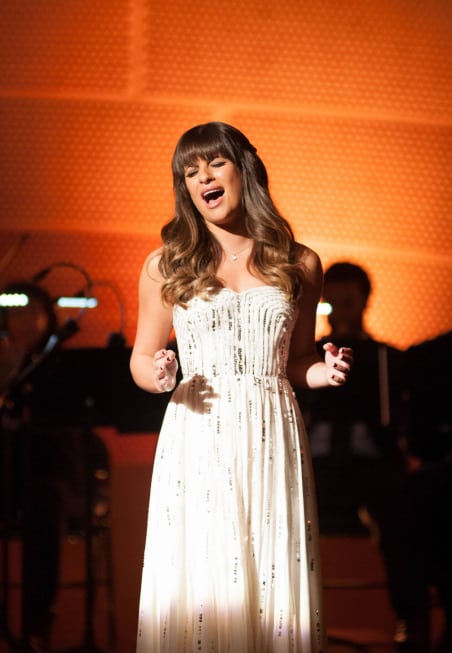 Last week's Glee ended on a bit of a cliffhanger, with Marley fainting just as the New Directions' Sectionals performance came to an end.  The audience was left wondering whether or not the glee club had won.
Well, the answer is contained in one of the sneak peeks for the episode, so they're obviously not trying to hide the outcome.  New Directions does not win Sectionals and, apparently, has ended its season.  Sue, of course, takes this news well and immediately wants to take over the music room as her new Cheerios rehersal space, but Finn is desperate to hang on to the glee club and its place in the school.  And, yet, with a loss under his belt he's not sure about his place in the club.
Meanwhile, in New York, NYADA's Winter Showcase is fast approaching and it's unusual for a freshman to be invited by the school's director to perform, but Rachel manages to score an invitation to the prestigous event and somehow manages to fit in a dance-off with Cassandra July (to "All That Jazz") into her busy schedule.  Kurt also gets a second chance at his dream when he manages to secure another audition to NYADA.  Will he be joining Rachel at the school?
Watch three sneak peeks below and tune in to an all new episode of Glee on December 6 at 9:00 p.m. ET/PT on Fox.
http://youtu.be/H61n9SDG708
http://youtu.be/hhgYqwL75_o
http://youtu.be/H787muOBJJ0