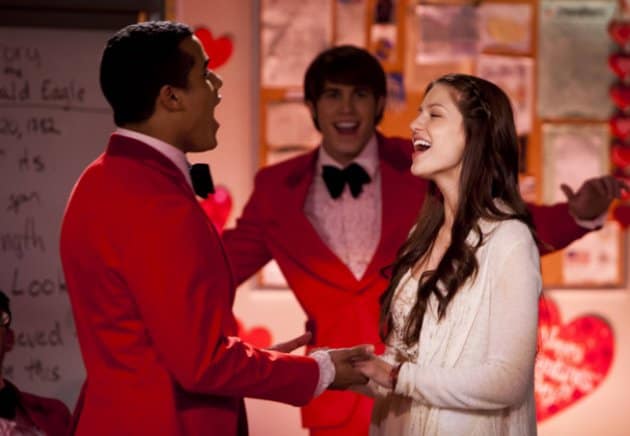 Will and Emma's wedding is finally scheduled to take place in this week's Glee, but given what happened in the last episode we have to wonder whether it will actually take place.  If you tuned in last week you might have caught a surprise kiss between Emma and Finn, initiated by Finn.  After the two of them worked together on the glee club's Diva Week challenge, Emma went a little crazy about her wedding preparations and he kissed her after assuring her they could handle it.
Yikes.  Now the former New Directions members are descending on McKinley High and Finn is in a bit of a predicament: does he tell Will about the kiss or does he pretend it never happened?  And how does he actually feel about Emma?
Meanwhile, it's almost Valentine's Day and the students are celebrating.  Jake, in particular, wants to make his first Valentine's with Marley really special and after some questionable advice from Puck, he turns to Ryder for advice instead.
Watch three sneak peeks below for the February 14 episode of Glee on Fox.
http://youtu.be/2DI1v-rhqrc
http://youtu.be/ITkz3k94_Bs
http://youtu.be/buUTbmnaWP4