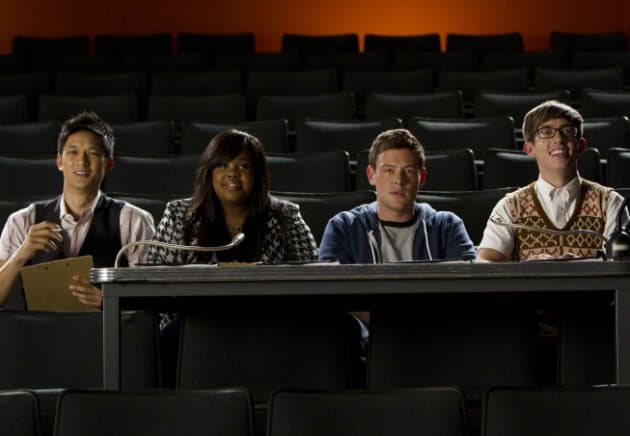 Poor Finn is directionless when Glee returns from its baseball hiatus this week.  After losing both Rachel and a shot at the army, he's returned to Lima and has taken to working in Burt's garage.
Enter Artie, who asks Finn to help him direct McKinley's musical since he was the one who proposed that they do Grease.  But Finn is feeling too depressed and hard on himself to contemplate doing that.  Yet Artie remains persistent.  And when Finn actually heads to the high school to help with the casting, Artie shows him the reinforcements he decided to call in: Mike and Mercedes.  The former classmates are all reunited!  This might just be the kick in the butt that Finn needs to get back on track.
Meanwhile, Sue has set her eyes on Wade and Marley as new targets for teasing, but she seems to be having a tough time coming up with some insulting names for Marley. 
Watch three sneak peeks below fro the November 8th all new episode of Glee, airing at 9:00 p.m. ET/PT on Fox.  You can also listen to all of the songs from the episode here.
http://youtu.be/bxyaqCmZGS0
http://youtu.be/ImxDPkhT2oE
http://youtu.be/ajsvtrLR4QY