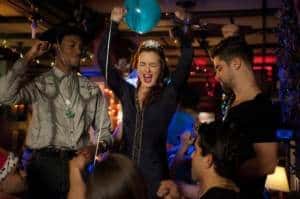 Blair and Louis' wedding is plodding full steam ahead on Gossip Girl, despite Blair's desire to leave him in the midseason finale. It seems like Blair and Chuck's crash – and the resulting complications – will bring Blair back to her prince. Despite the angsty trailer for the January 16 return of Gossip Girl, we know Chuck survives. Because, come on….he's Chuck Bass. That's the good news. The bad news is we're not sure whether he and Blair will get back together.
In the January 16 episode, Blair's shopping for wedding dresses (view photos). In the January 23 episode of Gossip Girl, Blair celebrates her bachelorette party. The episode, titled "Father and the Bride", is directed by Clueless director Amy Heckerling. While Blair prepares to celebrate her party, some people scheme to "make this a night to remember". Meanwhile, we know that Nate starts looking into what caused the car crash in the January 16 episode. In this episode, he learns the truth about what caused the crash, but he needs to join forces with an ally to gather all of the evidence. Serena and Dan pretend that they're dating again to "protect someone close to them".
Use the arrows above to view a few photos for the January 23 episode of Gossip Girl, airing at 8:00 p.m. ET on The CW.