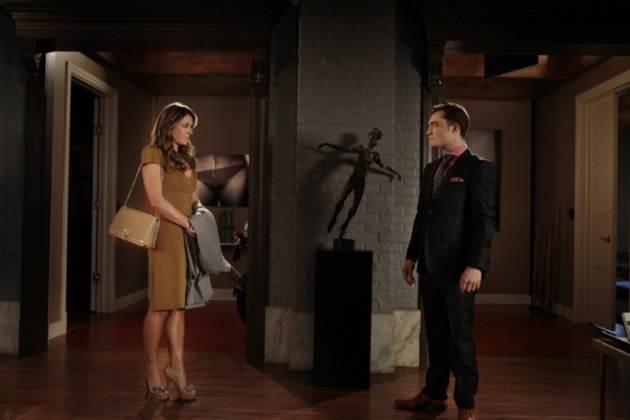 There's a slightly crazy – but possibly true – Gossip Girl theory floating around right now. You probably shouldn't read any further if you don't want to hear about it.
If you do want to hear about it, here it is: Diana is actually Chuck's mother. Well, we know a few things for sure: Elizabeth is definitely not Chuck's mother. Despite Chuck believing that Elizabeth had donated blood after his car accident, his PI learned that she couldn't possibly have done it. So who did?
Well, photos from the upcoming April 16 episode of Gossip Girl, titled "Salon of the Dead", put Diana and Chuck in the same room, brooding at each other. Is the theory true? Consider this: the synopsis for the episode says that "Serena (Blake Lively) and Diana (Hurley) face-off over secrets they both would prefer remain secrets." Could Diana discover that Serena is Gossip Girl, while Serena discovers that Diana is Chuck's mother? Maybe I'm wildly speculating here, but it would definitely be a fun twist, although also slightly gross since Nate would have slept with Chuck's mother.
Other big events for this upcoming episode include Dan and Blair's official coming out party as a couple, as well as Lily and Rufus' continued fight over how to handle the Ivy situation.
For all of our coverage of the show, including spoilers, sneak peeks and more, browse and bookmark our Gossip Girl page. You can also watch the newest episodes straight from Hulu on our page.