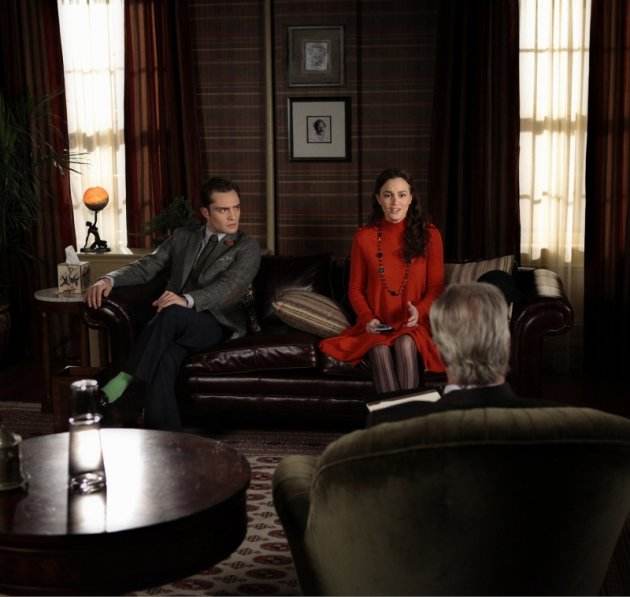 Before Gossip Girl went on its midseason hiatus, Blair and Chuck were in a terrible car accident after the two basically ran off together. It looked like some chasing paparazzi – hot on the trail and hoping to confirm that Blair had left Louis – had caused the accident. Also, Charlie, feeling guilty about her part in causing the accident, confessed the truth of her identity to Rufus and then decided to leave town.
When Gossip Girl returns with new episodes on January 16, it sounds like time will have passed since the accident. From what we can gather, the aftermath of the accident will be told through flashbacks. More specifically, Blair will tell Serena "what really happened" after the car accident with Chuck. A lot of fans are speculating that Blair could have lost the baby during the accident and while the network hasn't confirmed that suspicion one way or the other, it actually makes the most sense going forward.
Nate decides to investigate more about the crash and uncovers some information "that suggests foul play". Could there be another cause besides the limo speeding and the chasing paparazzi? Meanwhile, we know that Charlie disappeared in the previous episode. Lily has definitely noticed her niece's disappearance and it doesn't seem like Rufus has exposed Charlie's secret yet, because Lily hires a private detective to track Charlie down after being worried about her.
Finally, despite running away with Chuck in the previous episode, it looks like Blair's wedding to Louis is back on track, which isn't surprising since the upcoming 100th episode is said to feature their wedding. In the January 16 episode, Vera Wang will be making a guest appearance at Blair's wedding dress fitting. Want to see Blair's Vera Wang wedding gown? View it here.
Updated: View photos for this episode.
Don't miss the return of Gossip Girl on Monday, January 16 at 8:00 p.m. ET on The CW. Watch a trailer for the return here.