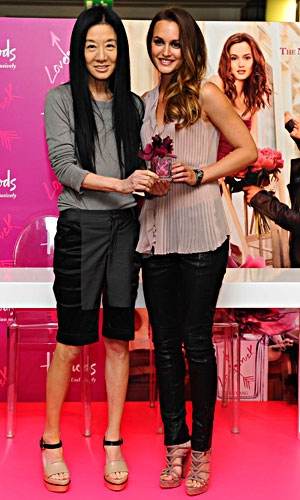 Gossip Girl star Leighton Meester was in London yesterday launching the new Vera Wang perfume Lovestruck at Harrods, which she is the official face of. The perfume is inspired by Romeo and Juliet* and the promo for the perfume (which can be seen below) features Meester not on balcony in Verona, Italy but on a fire escape in New York City. The star looks every bit like the lead in a romance wearing a Vera Wang burgundy tulle wedding gown.
*This Shakespeare play seems very popular with the Gossip Girl cast at the moment, with Ed Westwick taking the role of Tybalt in a new film version, which is also starring Oscar nominee Hailee Steinfeld and Blake Lively being photographed vacationing in the city of fair Verona with rumoured beau Leonardo Dicaprio (who also played Romeo in the 1996 Romeo + Juliet).
Meester looks set to have a busy summer with her film Monte Carlo released July 1, which tells the story of three friends who are vacationing in Paris when one of them is mistaken for a British heiress and they are whisked off to Monte Carlo. The film also stars former Gossip Girl co-star Katie Cassidy, Wizards of Waverly Place star Selena Gomez and Glee's Cory Montieth. Not only does she have a film hitting theaters but Meester also has a sold out show at LA's Troubadour club where she will be performing with the band Check in the Dark on June 13.
The Gossip Girl star also made headlines for a reason that Blair Waldorf would certainly find interesting, after Kate Middleton wore a dress to the Ark charity gala last night, that had previously been seen on none other than Blair Waldorf in last seasons Gossip Girl. The slightly altered Jenny Packham dress featured in episode 20 "The Princess and the Frog" (promo shots are here) in which Blair attempted to convince Louis's mother that she was worthy of the royal title that would be bestowed on her if she did indeed marry Louis. I'm sure the Gossip Girl costume department will be more than pleased that they picked a dress for Blair that was worthy of royalty and that there are already 'Who wore it best' debates occurring on fashion blogs.
In a summer that has already had a heap of Blake Lively gossip and appearances thanks to a nude picture scandal, an A list boyfriend and many junkets for blockbuster Green Lantern, I am glad to see that Leighton Meester is also having a busy if not as salacious hiatus from Gossip Girl.
What do you think of the promo for Lovestruck? Are you tempted to get this fragrance?