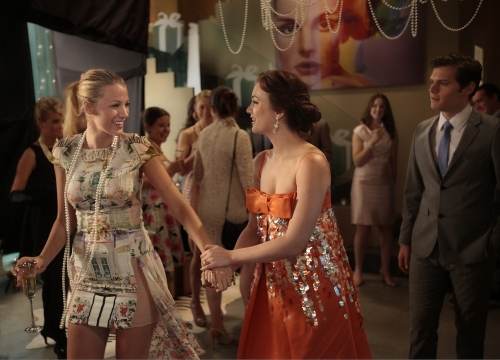 The preparations continue for the big Gossip Girl wedding as Serena (Blake Lively) performs one of her many maid of honor duties and throws Blair (Leighton Meester) a bridal shower in "All the Pretty Sources." As with any big event (or small one) on this show there will be drama and fireworks to interrupt the festivities.
Last week Blair schemed to get Chuck (Ed Westwick) to break with his recent charitable act and he did so when he kissed her. This in itself was a manipulation of a manipulation and Chuck did it to set Blair free; yes this plan is as dumb as it sounds. However I do appreciate this more mature Chuck this season and it sure beats what they turned him into last year when Blair revealed she was engaged. Chuck this week will be spending time with the other person who hasn't been invited to the bridal shower and that is Dan (Penn Badgley). Dan spent last week hiding out in Brooklyn, ashamed of his not so popular book tour and whilst this also fell under the not-so-great storylines, his coming out of seclusion to hang out with Chuck shows way more promise. Hopefully their day of debauchery will feature massive amounts of snark and not too much self-loathing, though it would seem that alcohol will most definitely be playing a part.
The bridal shower is the focus of the episode and Serena is trying to keep all details a secret from Blair. To do this she has to plant some misinformation with the minions who spill the not so grand fake arrangements to a distraught Blair in the sneak peek below. There is of course much history between the pair and executive producer Joshua Safran hints in the episode preview that this is important for tonight's main event.
Serena is also busy with her new mission to take down Gossip Girl herself at the behest of Diana (Elizabeth Hurley) and together with Nate (Chace Crawford) they find a silver bullet that could help in this battle. However, Nate and Serena are probably the least scheming of the group and struggle with whether to use it or not. Nate will probably feel very differently towards Diana when he finds out that his grandfather William van der Bilt (James Naughton) has been pulling the strings all along.
Charlie (Kaylee DeFer) found herself in a predicament as her ex-boyfriend Max (Brian J. Smith) came to town for a job interview and ended up caught in the middle of Diana's plotting. Thanks to the help of the Gossip Girl site Max found out that the girl he knows as Ivy is posing as Charlie, what will he do with this information this week? If you look ahead to the preview you will see that he brings this matter to the attention of one of Charlie's 'family'; will she confess as to who she really is or spin another lie to get out of this predicament? My theory is that she will play the mental illness card to her advantage.
Watch the episode preview and a sneak peek below for "All the Pretty Sources". You can look through photos and watch a trailer for the episode here. For spoilers on the 100th episode and a look at Blair as a possible runaway bride head here and here.