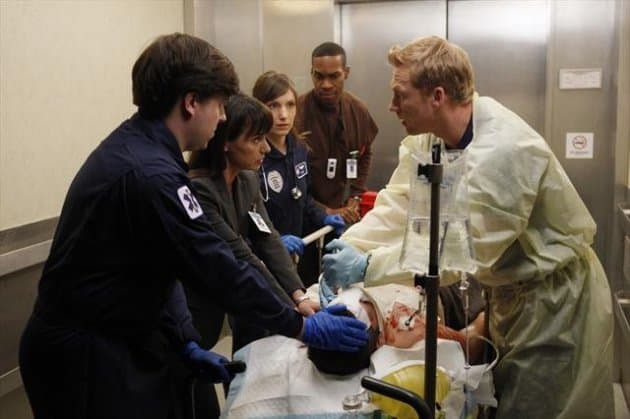 On this week's Grey's Anatomy, Dr. Cahill continued to rain a special kind of hell down on Seattle Grace while our favorite doctors struggled to practice medicine with Big Brother (in the form of the elusive Dr. Bob behind a video camera doling out medical advice) looking over their shoulder.
The first victims of the new protocol include Cristina and the hospital's most annoying intern ever (I mean—Dr. Murphy) as they race against the clock to repair the heart of a Jehovah's Witness, who comes to us in the body of a 19 year-old skater boy. Ace cardiothoracic surgeon Dr. Yang's got this one in the bag, right?
Wrong. For those ignorant of Jehovah's Witness practices, it's important to note that the religion doesn't allow blood transfusions. Which pretty much throws a wrench into any potential life-saving surgery, doesn't it? It's worth it just to tune in to watch rebel Dr. Murphy pull an Izzie Stevens and attempt to transfuse the blood, anyway.
Meanwhile, Kepner and Shepherd have been hard at work crunching numbers to save the ER from its seemingly inevitable demise. Dr. Kepner scrambles to get the departments on board (Everybody hates me, she insists) before Derek bails her out with a little sweet talk and some good old-fashioned guilt (Remember how I saved your sister's life, Doctor?). Ohhh, Dr. McDreamy. So good to see you back to your old self.
Dr. Webber and Dr. Bailey are stuck in the skills lab at the hands of an eager visiting doctor who's more business than medicine when he insists on uniformity in the O.R. But I think we all know that those two ain't goin' down without a fight. Stick it to the man, Webber. Stick it to the man.
Alex and Calzona (Am I the only one who ships that ship name?) are off cowering in a corner when a thirteen year-old would-be Olympic gymnast refuses to walk after her hip replacement surgery. Solve this riddle: How many doctors does it take to screw in a lightbulb?
Dr. Cahill's ice queen exterior starts to melt (along with my hatred of her. Damn.) when she assists Dr. Hunt in saving a patient's life. And after her monologue about how she's saved countless of hospitals without so much as a thank you, part of me couldn't help but hope she'd be sticking around for just a little longer.
And then comes the kicker a la Shonda Rhimes style. (Speaking of kicking, Baby Grey-Shepherd gave Meredith her first swift kick!) Just as Kepner and Shepherd spill their success all wide-eyed and flushed with pride, Dr. Cahill swoops in and shuts them down. Despite their feverish math, the ER will cease to exist…because the hospital is going up for sale. Just when you thought things couldn't get any worse.
Paging Dr. Cahill. I take back my takeback, by the way. We are so back to pure and unadulterated.
Grade: A-