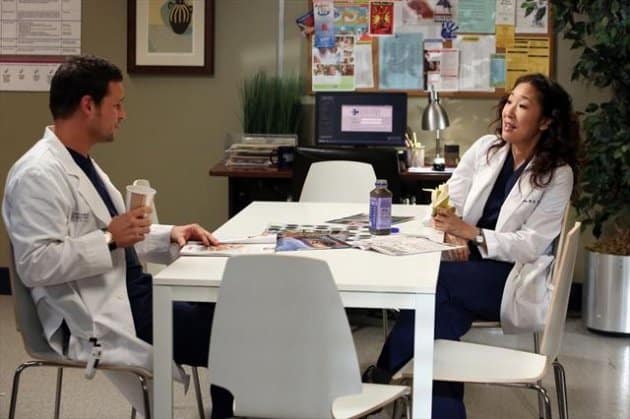 Grey's Anatomy returns tonight with an episode that will change the lives of the doctors at Seattle Grace forever. Last season's finale left us all wondering what happened in the horrible plane crash, and that, believe me, we will never forget. The beginning of this season was no walk in the park either; in fact it has indeed been one of the most tear jerking and dramatic seasons for Grey's fans everywhere.
Major Spoilers Ahead
We will find out what could have caused that tragic plane crash, as the lawsuit plotline is set to finally come to an end tonight. According to a sneak peek, it looks like Derek, Meredith, Christina, Arizona and Callie won't be leaving the courtroom empty handed as they will be receiving $15 million each! However, they didn't look too thrilled with the verdict; in fact, Callie was the only one who seemed content with the court's decision. But will Owen continue to blame himself for the plane malfunctioning? Did he decide to divorce Christina because it was the only way she could continue on with the lawsuit or because it would lead them to a lip lock? It's safe to say that the latter was the case, but who knew a divorce was equivalent to a kiss?
Back at Seattle Grace, Dr. Avery has to consult on one of Dr.Sloane's patients; however Arizona isn't letting him derail from Mark's original plan. But Mark was a great teacher and Avery certainly knows what he's doing, so he just has to convince Arizona of that.
Meanwhile, Richard seems to be coping in his own manner by avoiding everybody else after Adele's emotional death last week. It's no doubt that Meredith is concerned for his well-being, I mean it's always a concern when he hasn't been taking up any surgeries, right? And get this; he's even going to avoid romantic advances from Catherine! Now, those are definitely reasons to be concerned, but let's hope his coping mechanisms help him get back into the OR room soon.
Not only is it a big day because of the lawsuit, but also because it's Meredith's last day of her first trimester! Although she's slowly been accepting of her pregnancy, Derek couldn't be more excited. Believe me, so are we! And that's not the only reason why he's happy; after a long wait, Derek is finally in the recovery stages for his hand and ready for therapy. And by therapy, I mean being ordered to play ping-pong with an intern for eight hours by Callie! I think you're all with me when I say, "Can I play ping-pong with McSteamy?"
Watch the sneak peeks here and be sure to catch tonight's episode "The End is the Beginning is the End"
at 9 p.m. ET/PT on ABC.
http://youtu.be/sr5NOjqnFww