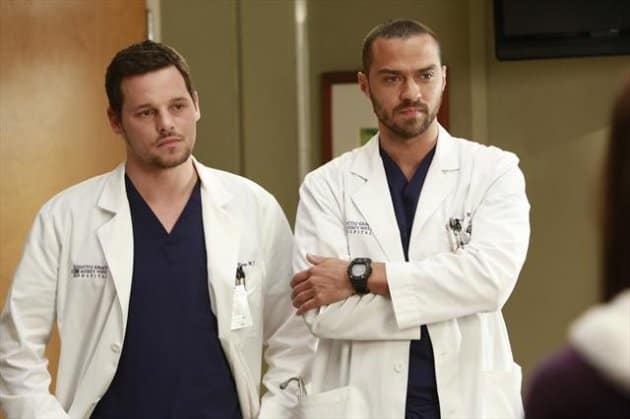 The doctors of Seattle Grace aren't letting go of their ER just yet in tonight's episode of Grey's Anatomy. From the looks of it, I'd say they're about to get in some serious trouble with the board.
April challenges the protocol that Dr. Cahill implemented in the ER by bringing a patient whose life is in danger and in need of the closest hospital—which just happens to be Seattle Grace. She calls Jackson to get some help with reopening the ER. However, there is a heated competition going on between Alex and Jackson to be the new faces of Seattle Grace and agreeing to do this will jeopardize his chances to win. But by the looks of it, Alex is also involved in helping the ill patient coming to the ER.  If you're like me, you might be wondering why there's no woman in the mix of the competition…well, Meredith had the same question. It turns out that Yang was considered but declined the offer because her face was meant to be in a Nobel book—Oh Yang, how typical of you. But now that it seems like everyone is helping April's patient, who will be the hospital's show pony?
The hospital has been making changes and will be implementing new policies which will test the patience of the staff. Tension arises when the doctors discuss the sale of Seattle Grace. While Callie is determined to rise up and do something about it, Bailey is quick to dismiss the idea of going against the hospital—she's definitely not afraid to let the doctorss who took part in the settlement know exactly what she thinks of their role in Seattle Grace's recent changes.
Meanwhile, Alex and Jo are distressed to find themselves surrounded by couples getting it on, if you know what I mean. But their response won't be what you'd expect. Let's just say it gets wild and a bit loud.
What do you think? Will there be a new face for the hospital or will their little stunt disqualify them?
Take a look at the promo below and don't forget to watch tonight's Grey's Anatomy episode "The Face of Change" at 9 p.m. ET/PT on ABC.
http://youtu.be/lTkw6OpG8WI