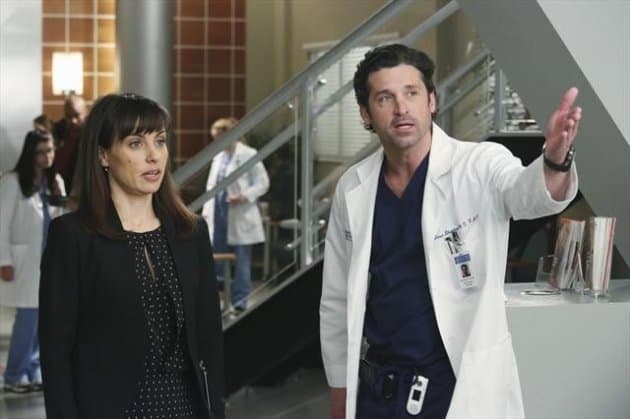 This season of Grey's Anatomy has not been easy for the doctors of Seattle Grace and things are only going to get more complicated. Just when we thought that Callie's idea to use the lawsuit money to buy off the hospital was the solution, it seems like Seattle Grace will still be shutting its doors—and this time for good. However, you and I both know that these doctors won't sit back and watch as their hospital faces the possibility of permanently shutting its doors. Oh, but they've got a plan,because  they always have a plan, right? Well, from the looks of it, the new appointed face of the hospital is asking for his resignation. Derek's plan to is to resign from his beloved Seattle Grace.
Minor Spoilers Ahead
The financial distress of Seattle Grace is weighing heavily on the employees, especially for the core doctors of the lawsuit. Last week, Bailey was definitely not shy to let them know exactly what she thought of their role in the hospital's recent changes. Tonight, things get heated between Derek and Arizona over the idea of using their money to buy Seattle Grace. Arizona is reluctant to spend the money because she knows first-hand that the future is unpredictable and she doesn't want to be unprepared if anything were to happen. She tells Derek that he only feels guilty for having the money and his career back, whilst others lost their lives and, she, her leg. Could this be the reason why Derek resigns?
The promo's voice over says "United they'll stand, Divided they'll fall".  This group of doctors have been together through thick and thin over the years and this bump in the road doesn't seem like it'll separate them
quite yet. Despite Derek and Arizona's differences, all the doctors decide to resign in front of Owen, Dr. Cahill and the board. Of course, Yang hesitated a few seconds, but she took a step forward and stood by her friends' call of action.
Meanwhile, there may be some hint of romance in tonight's episode when April seeks romantic advice from Jackson.  Yikes, April, that can't possibly lead to awkwardness at all (insert sarcastic face here).  But really, Jackson actually encourages her to tell him because April seems to think that it would be too weird to ask him, even as a friend. Jackson decides to opens up and tells her that his fling with Stephanie is not serious; he's just having fun. Well, I sure wonder how this will play out, but I'm sensing some jealousy by Jackson.
Meanwhile, Alex and Jo work together to save the life of an infant and the interns are looking for internships elsewhere due to the changes the hospital has been making. Stephanie tells Yang that she wants to be the best she can be and Seattle Grace is not meeting up to her expectations.
What do you think? Will their resignation lead to a solution or will the hospital close its doors for good?
Take a look at the promo below and don't forget to watch tonight's Grey's Anatomy episode "Hard Bargain" at 9 p.m. ET/PT on ABC.
http://youtu.be/QXKvACIvni4