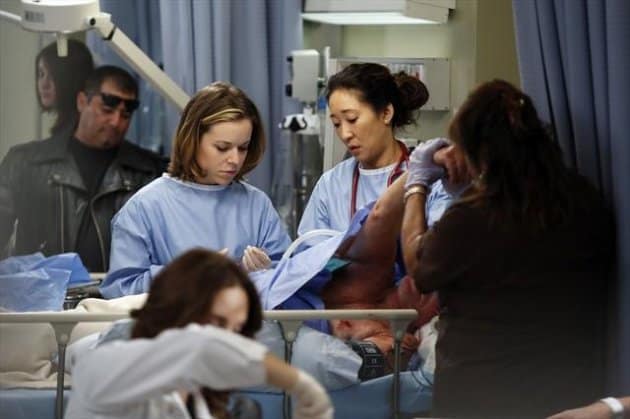 Miranda Bailey's limo took a long U-turn back to Seattle Grace Hospital when Richard received an alarming call that Adele was on her way to the emergency room in the winter finale of Grey's Anatomy.  With glimpses of the wedding décor, its guests, and a worried groom, we were left to see Bailey getting out of her dress and taking over for Richard in attempt to save Adele's life. But will she make it in time to her wedding ceremony? Callie might say 'no' because of the pre-wedding jitters and nervousness that Bailey was clearly having along with her jokingly advice, but I think we will see a ceremony in the future.
Meanwhile, Meredith finally opened up about her secret pregnancy to Derek's sister, Lizzy, and his hand surgery couldn't have gone any better. Let's hope this means she believes the pregnancy will be a success and starts to share the excitement with Derek. And Christina told Owen that she is not ready to give up on their relationship. Here's to a reconciliation! Take a look at what's in store for Grey's Anatomy when the show returns from its winter hiatus.
"Things We Said Today" (January 10):  "Bailey puts her wedding day on hold and continues her efforts to save Adele's life, Cristina and Owen remain undecided about their pending divorce, while Arizona and Callie try to get their spark back. Meanwhile, the hospital becomes inundated with a group of bikers after a horrible accident." Loretta Devine will guest star in this episode.
"The End is the Beginning is the End" (January 17): "Meredith, Derek, Cristina and Arizona receive big news regarding the plane crash lawsuit, Richard avoids Catherine's romantic advances and Jackson takes on one of Mark Sloane's old patients. Meanwhile, Derek begins recovery on his hand."
Watch a preview below for the January 10th return of Grey's Anatomy at 9 p.m. ET/PT on ABC.
http://youtu.be/9o9lV6JuCsc