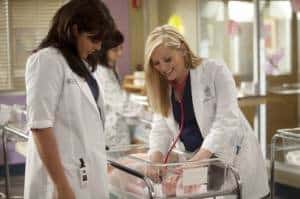 The season finale of Grey's Anatomy is set to air on May 17, but before the season ends, we have the penultimate episode airing this week, which features the residents making some big decisions about their future.
The official episode synopsis from ABC says that in this week's episode, titled "Migration": The residents determine their future as they make their final decisions regarding post residency positions; Mark admits to Derek that he is torn between his love for Lexie and the fact that Julia can give him everything he's ever wanted; Ben plans something extra special for Bailey, but she is preoccupied with her work; and Arizona encourages her childhood friend, Nick, to have surgery. Meanwhile a couple on their third honeymoon come to the hospital complaining of mysterious symptoms.
Watch four sneak peeks below for the May 10 episode of Grey's Anatomy, airing at 9:00 p.m. ET/PT on ABC. You can also use the arrows above to browse through photos for the episode.