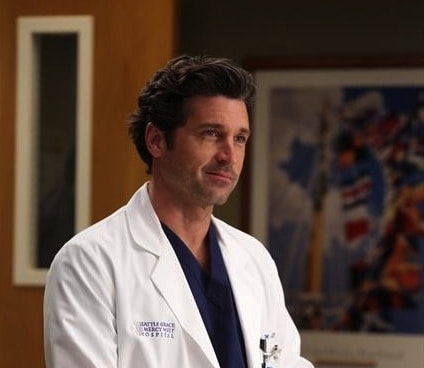 Derek is taking some first steps to help his hand in this week's episode of Grey's Anatomy.  Callie realizes that their last attempt wasn't successful, so her newest idea is to have him play ping-pong to keep up with repetitive motion.
Meanwhile, Meredith, Derek, Cristina and Arizona receive some important news about their lawsuit involving the plane crash and Arizona and Dr. Avery clash over a former patient of Dr. Sloane.
Richard also takes a trip through memory lane in his "hall of horrors" with memorabilia from unusual patients.  But Meredith is concerned about how depressed he's been and the back that he isn't performing surgery lately.  The fact that he avoids Catherine's romantic advances is also cause for concern.
Watch three sneak peeks below for the January 27 episode of Grey's Anatomy.  Stars Camilla Luddington (Dr. Josephine "Jo" Wilson) and Gaius Charles (Dr. Shane Ross), who will be up on Twitter at @camilluddington and @gaiuscharles, respectively, during the West Coast broadcast of the show from 9:00-10:02 p.m., PT.
[FLOWPLAYER=http://www.tvovermind.com/wp-content/uploads/2013/01/ga-911-1.jpg|http://www.tvovermind.com/wp-content/uploads/2013/01/GRA911_fv1.h264HD-Clip1.flv,440,280,true]
[FLOWPLAYER=http://www.tvovermind.com/wp-content/uploads/2013/01/ga-911-2.jpg|http://www.tvovermind.com/wp-content/uploads/2013/01/GRA911_fv2.h264HD-Clip2.flv,440,280]
[FLOWPLAYER=http://www.tvovermind.com/wp-content/uploads/2013/01/ga-911-3.jpg|http://www.tvovermind.com/wp-content/uploads/2013/01/GRA911_fv3.h264HD-Clip3.flv,440,280]