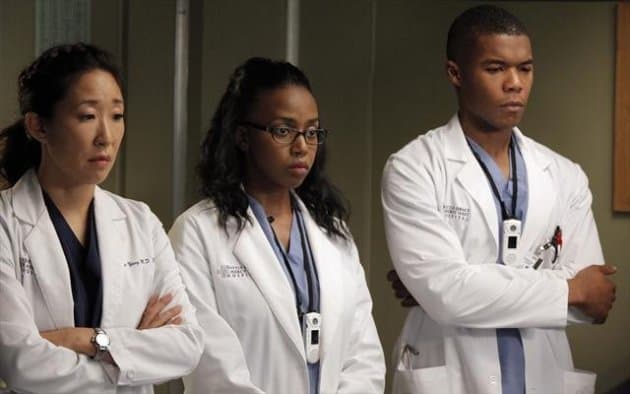 Grey's Anatomy is on hiatus on Thanksgiving, but an all new episode will be airing next week at the end of November.  Fortunately for the fans, ABC has already released some sneak peeks for you to enjoy.
Romantic entanglements are the focus of next week's episode, titled "I Was Made For Lovin' You": "Cristina and Owen continue to figure out their relationship amidst the pending lawsuit; and Bailey argues with Ben over plans for their upcoming nuptials. Meanwhile, Callie recruits Jackson to help find a solution to Derek's hand, but he is preoccupied by a shocking situation with April."
Make sure to adjust your DVRs, because this episode is scheduled to run two minutes long!  Don't miss an all new episode of Grey's Anatomy on November 29 at 9:00 p.m. ET/PT on ABC.
[FLOWPLAYER=http://www.tvovermind.com/wp-content/uploads/2012/11/GRA907_fv2.h264HD.png|http://www.tvovermind.com/wp-content/uploads/2012/11/GRA907_fv2.h264HD.flv,480,320]
[FLOWPLAYER=http://www.tvovermind.com/wp-content/uploads/2012/11/GRA907_fv1.h264HD.png|http://www.tvovermind.com/wp-content/uploads/2012/11/GRA907_fv1.h264HD.flv,480,320]
[FLOWPLAYER=http://www.tvovermind.com/wp-content/uploads/2012/11/GRA907_fv3.h264HD.png|http://www.tvovermind.com/wp-content/uploads/2012/11/GRA907_fv3.h264HD.flv,480,320]