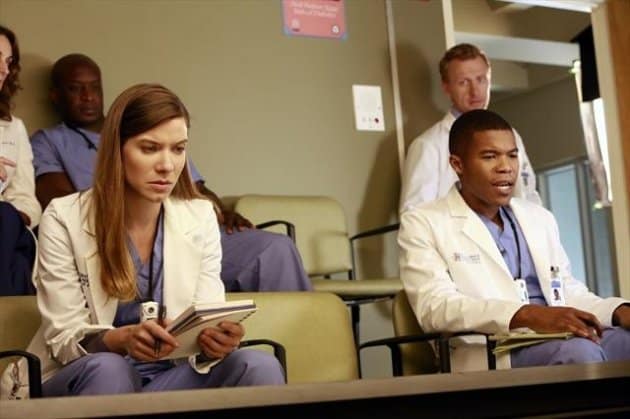 A new group of interns have to adjust to life at Seattle Grace in a new episode of Grey's Anatomy this week.
In "Love Turns You Upside Down", "The new batch of interns find themselves involved in all the drama at Seattle Grace: Meredith asks Heather to go above and beyond to help fix Derek's hand; Cristina starts a healthy competition between Stephanie and Leah, which inadvertently leads to a medical emergency for Cristina's patient; Alex sees Jo in a new light as they work to save a baby's life, and April teaches Shane a valuable lesson during "lumps and bumps" duty."
Neve Campbell will also be making a guest appearance in the episode as Liz Sheperd, Derek's sister.
Watch two sneak peeks below and don't miss an all new episode of Grey's Anatomy on December 6th at 9:00 p.m. ET/PT on ABC.  Make sure to adjust your DVRs, because the episode will run two minutes long!
[FLOWPLAYER=http://www.tvovermind.com/wp-content/uploads/2012/12/ga-908-2.jpg|http://www.tvovermind.com/wp-content/uploads/2012/12/GRA908_n_fv2.h264HD-Clip1.flv,440,280]
[FLOWPLAYER=http://www.tvovermind.com/wp-content/uploads/2012/12/ga-908-3.jpg|http://www.tvovermind.com/wp-content/uploads/2012/12/GRA908_n_fv3.h264HD-Clip2.flv,440,280]