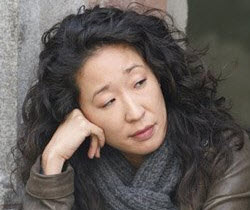 They're calling it a Grey's Anatomy "shocker," but to me it's not terribly surprising that an actor would want to leave a show after playing the same character for a decade. To me, the biggest shocker is that Grey's Anatomy is still on. Not a dig at the show, but I genuinely had no idea it still had an audience. But I suppose most soap operas do.
The big news is that Sandra Oh will be leaving the show when he contract expires after season ten, according to THR
"Creatively, I really feel like I gave it my all, and I feel ready to let her go. It's such an interesting thing to play a character for so long and to actually get the sense that she wants to be let go as well. [Cristina] wants to be let go, and I am ready to let her go. We have to start the process, story-wise, for the Grey's writers to think of why she's going to go."
Oh is just one of six Grey's actors whose contracts expire this year. Ellen Pompeo, Patrick Dempsey, Justin Chambers, James Pickens Jr. and Chandra Wilson all have to figure out if they're sticking around or not, or if they'll follow Oh's lead and call it quits. So far, none of them have said anything official.
Ten years is a ripe old age for any show, and I wouldn't blame any of them if they wanted to depart gracefully, rather than wait around to be caught up in drama like Isaiah Washington or Katherine Heigl. This may be the way to leave if they want to, or they could stick around and keep banking millions, that could work too.