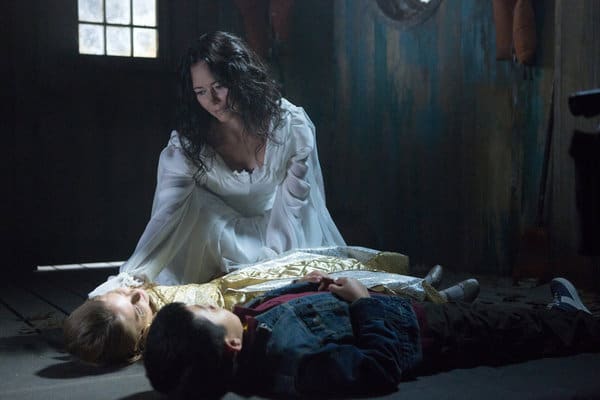 Nick and Hank have developed a bond that might not be conducive to working with other people. Though they've teamed up with Monroe earlier this season on Grimm, their years-long partnership has deepened once Nick revealed that he, too, can see creatures. Hank's gotten a crash course in all things Wesen lately, which hasn't unnerved him like Nick thought it would, while Nick has found a person that can share both of his worlds equally. Hank can now help him out in ways that he couldn't before, but what happens when they have to try and include an outsider in an investigation?
On next week's episode of Grimm, Nick and Hank will have to work with another detective in order to bring down the culprit of a string of child abductions in the area. The detective, Albuquerque's Valentina Espinosa, has been tracking the suspect for years and might finally be able to land them with the help of the Portland PD. However, the closer that they get to apprehending the suspect, the more that Nick begins to draw parallels between the latest series of crimes and Mexican legend La Llorona. La Llorona, the story of a woman that kills her children and ultimately spends the rest of eternity looking for them, has its roots in Nick's family history, so that unlikely connection might give him a stronger desire to solve the case before him.
Meanwhile on Grimm, Monroe teaches a lesson to a group of neighborhood bullies.
Grimm airs Fridays at 9:00 on NBC.
How do you think Nick and Hank will feel working with a detective from another department? With Juliette set to head out onto the crime scene to act as Valentina's translator, will Nick be able to put away the Grimm abilities for a while? Just what kind of connection does La Llorona have to Nick's family history, anyway?