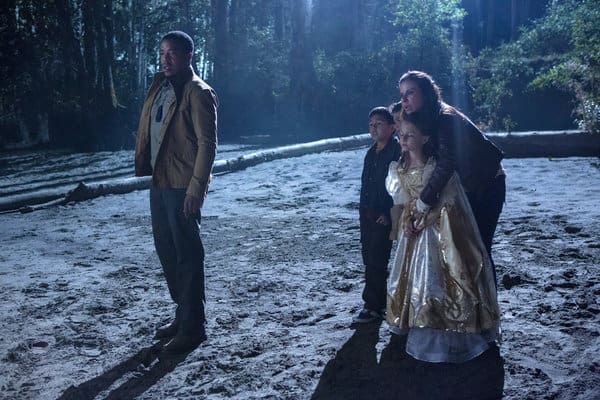 Ever since Hank found out that he wasn't alone in being able to see creatures (and that his partner is a Grimm), his perspective has been changing. Once a black-and-white thinker that rarely saw the shades of gray, Hank has been forced to reconsider what he knows about Nick, his profession as a police officer, and life in general now that the Wesen world has become a reality to him. We've seen him be the one to bring up the Wesen during investigations with Nick, but now, he'll be looking back at a past crime that may not be as cut-and-dry as he once thought.
Below are the dates, episode names, and episode descriptions for the next three episodes of Grimm.
Friday, November 2nd – "The Hour of Death"
When a brutal vigilante homicide is made public, it sends Portland's Wesen community into a frenzy. As Nick (David Giuntoli) investigates further, he discovers a pattern similar to that of a particularly brutal line of past Grimms. Is there another Grimm in town, or is Nick dealing with a sadistic copycat? Meanwhile, Captain Renard (Sasha Roiz) takes it upon himself to offer Juliette (Bitsie Tulloch) comfort in handling her ongoing dilemma with Nick.
Friday, November 9th – "To Protect and Serve Man"
Hank (Russell Hornsby) starts reflecting on an arrest he made earlier in his career regarding a man (guest star Jason Gedrick) who committed murder claiming "self-defense against monsters." With the man's death sentence rapidly approaching and the knowledge he's recently gathered from Nick, Hank begins to wonder if there was more truth to the man's seemingly absurd story then he once thought. Back at the spice shop, Monroe (Silas Weir Mitchell) finds himself involved in a situation he never saw coming.
Friday, November 16th – "Season of the Hexenbiest"
Adalind returns to wreak havoc in everyone's lives and avenge her mother's brutal death. She has her eyes set on Nick and those closest to him – especially Hank and Juliette. Elsewhere, Captain Renard's obsession continues to escalate. Meanwhile, a surprise visit at the spice shop gives Monroe more than he ever bargained for.

Grimm airs Fridays at 9:00 on NBC.
Will Hank be able to save the man on death row that might not have been lying? Do you like Monroe taking care of the spice shop until Rosalee returns? How will Renard "comfort" Juliette in her time of need?