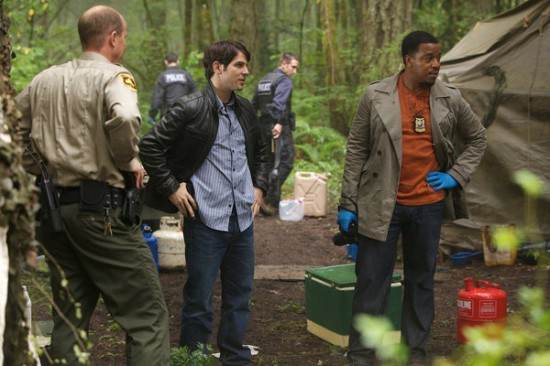 The first seven episodes of Grimm came and went at the tail end of fall with a lot of promise. The show has yet to make the leap from good to pretty good or even great, but there's so much raw material there that you have to watch to see if it all comes together. Make no mistake, I enjoy Grimm, but I enjoy it while understanding that its ceiling is pretty high, considering the talent involved both in front of and behind the camera.
But how would the show move into its next slate of episodes?
For one, we have a whole lot of new fairy tales to interpret (and re-interpret). Hansel & Gretel will come to life in the form of Daryl Sabara and Hannah Marks; according to Entertainment Weekly, the two will appear in an episode titled "Organ Grinder" as homeless teenagers getting caught up in black market organ dealing. No word on the "creature of the week" and what exactly brings them into the world of human organ dealing, though. Lost alum Titus Welliver will be popping up as a creature that can turn into a steinadler (German for golden eagle), per TV Line. Instead of merely being another foe for Nick and Monroe to take down, Welliver's Grimm provides information of mystical gold coins, a welcome development as Monroe tends to be the info dump more often than not. Also stopping by the latest sci-fi hotspot is Amy Acker. TV Guide reports that the actress will be playing the Black Widow, a rapidly aging suburban housewife named Lena that needs to suck the blood of men in order to keep herself young and beautiful.
Then there are the roles that have yet to have their casting announced. According to EOnline, the show is currently looking for an actress to play Ariel, a dragon-like creature (Daemonfeuer, for those keeping score) who's also a fire dancer. Think it could top the recent dragon from Once Upon a Time? Also from E!, we'll also be meeting Leo in episode 12 this February, a lion-like creature in charge of organizing fights between his fellow creatures. (Likely at somewhere seedy, dank, and awesome.)
But as strong as Grimm can be visually with its monsters, a huge part of the show is Nick's struggle to hold on to his humanity, which will be brought up again. Remember the refrigerator repair man that was terrified knowing he was in a Grimm's house and it kind of seemed like Juliette was alarmed? That'll be coming up, as E!'s Watch With Kristin reports that the vet will not only be finding out Nick's real identity, but she'll be operating on creatures in the near future. We'll have to get through arguments about fidelity, since she thinks he's cheating on her when he's gone all hours, but the promise of her finding out early is quite gratifying. It'll get her involved in the action instead of being an outlier, plus there won't be much "how will he hide it this week?" hand wringing going on; I'm mostly curious about how they reveal it to her, but I think she can be a solid asset to Nick and Monroe and it'll be nice to get to "know" her a little more.
Grimm returns from its winter slumber on January 13th with the episode "Game Ogre" described below.
"GAME OGRE"
An escapee returns to Portland seeking revenge against those who put him behind bars. His unusual strength and high tolerance for pain makes Nick (David Giuntoli) take notice. As the case escalates Nick and Juliette (Bitsie Tulloch) are put in danger, and Monroe (Silas Weir Mitchell) is called into action to help put an end to the convict's deadly rampage.
Which fairy tale do you want to see Grimm take on next? Do you think Juliette should find out about Nick this early in the show's run? Where do you think Grimm goes after the hiatus in terms of story?