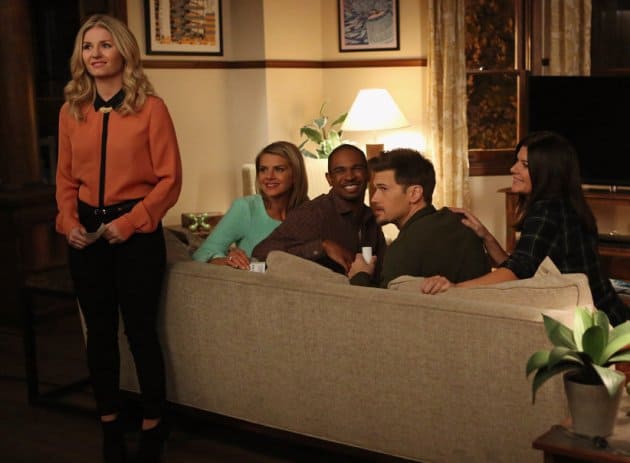 Yay! A second episode of Happy Endings!
Um question: Do you have a have a wedding to have a hot wing cake? How bout enjoying one on a Friday night? Also, I would like an a-Ha-like video crew to film parts of my life. I don't ask for much; just unorthodox things.
Last night's second dose of Happy Endings had Jane attempting to convince Pete to have the gigantic traditional wedding Penny wanted as oppose to what Pete wanted, which was a simple beach wedding with just the two of them.
Pete ultimately decided that he wanted Penny to have the wedding of her inspirational board dreams. As for the rest of the group, they also attended the wedding expo where Brad and Max nearly shared their first on-screen kiss (instead Brad felt Max's whiskers) and Alex and Dave made me realize that their relationship needs to end post haste!
As much as I want Penny to be the third person in the group to successfully make it to their own wedding reception, I was actually hoping that it would be her and Dave. The second season finale saw a glimpse of what could be a Penny/Dave/Alex love triangle, but I guess the writers pulled the brakes on that one and went with an Alex/Dave reunion. To be honest, I think Alex is the comedic underdog of the show, but I think her best stuff is when she isn't with Dave. We rarely get to see Penny with Dave and I think it's about damn time that we get to see it drenched with them awkwardly courting one another. Dave with his Navaho Indian suaveness and Penny with her 50 shades of cray cray. But I guess that's a season four issue.