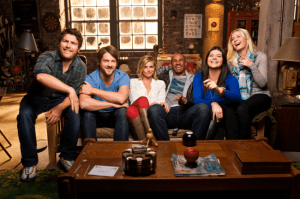 For those of you who were big fans of Happy Endings, have no fear, the cast is moving on and it looks like they're doing just fine.  Here's a little info on where you can find them now.
The news broke yesterday that Adam Pally was promoted to series regular on The Mindy Project.  This just brought on a wave of nostalgia for the dearly departed Happy Endings.  You may say it's too soon for a "where are they now?", but as you can see, most of the actors have moved on already.
It was previously reported that Damon Wayans Jr. will be reprising his role as Coach on New Girl.  He was only in the pilot, before he had to be written out due to Happy Endings, which gave way to Winston's character.  That will definitely be fun to see how Coach is brought back!
Eliza Coupe will be appearing in two upcoming comedies.  Showtime's House of Lies and CBS' The Millers.  With the likes of Kristen Bell and Will Arnett as stars on each respective show, Eliza's met her comedy matches!>
Casey Wilson was featured in How I Met Your Mother's season 8 finale, as one half of a quirky couple whose engagement Barney and Robin inadvertently set up.  It has been said that many of the guest stars will be returning, so cross your fingers her kooky character Krirsten makes a comeback too!
Zachary Knighton and Elisha Cuthbert are probably waiting for the right project to come along.  I wish this "ah-mah-zing" cast was back together for a fourth season.  If it was possible for Arrested Development to come back after 6 years off the air, there's always hope, right?  Right?!
Are you missing Happy Endings yet?  Maybe it'll take a few new sitcom pilots until you start missing Penny, Max, Dave, Alex, Brad and Jane.  Either way, I'll be here to share your pain, even if it is 5:30.