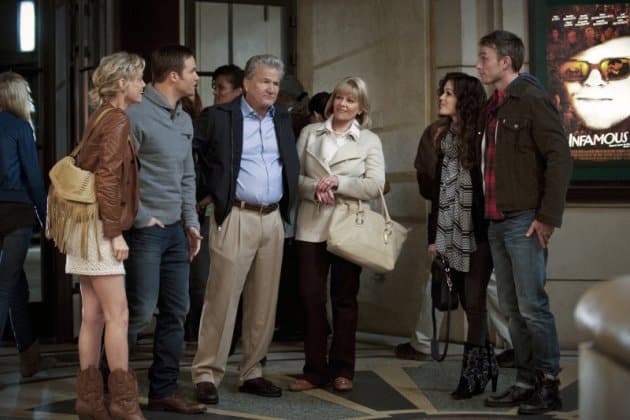 Zoe and George have gotten to a decent place in the last few episodes of Hart of Dixie. Granted, there's still a certain amount of awkwardness between them, but that has lessened and they're getting to the point where they can be friends again. Helping matters is that both of them are in new relationships with people they didn't exactly envision themselves with; Zoe and George are very much alike in their conservative nature and the fact that they don't like to take many risks, but now, they've found people they like and want to preserve a relationship with. But what if an outsider begins to interfere?
On the next episode of Hart of Dixie, George's parents come to town for a visit and find out that their son is dating Tansy, a woman they deem to be not good enough for George. As a result, they devise a plan to get him in a room with Zoe and have them address their feelings for one another. Will being reminded of said feelings weaken each relationship or will they resist the manipulation and remain true to the one they're with?
Elsewhere on Hart of Dixie, Lemon finds out about Brick's secret relationship with Shelby and AnnaBeth becomes infatuated with a British town visitor, but Lavon looks into his real identity once he becomes suspicious of him.
Hart of Dixie airs Tuesdays at 8:00 on The CW. You can check out a recap of last night's episode here.
Do you think that George's parents are right in wanting him to be with Zoe? What will Lavon find out about the new guy in town? How will Lemon react to her father being in a relationship with a woman her age who had previously dated George?