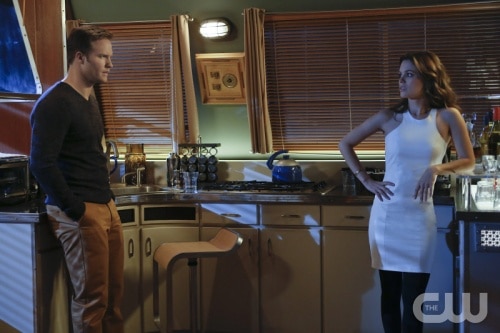 This season on Hart of Dixie, love in BlueBell has been popping up in places wholly unexpected. While Brick finds himself with a hyperactive shopaholic his daughter's age, George has seen a spontaneity in Tansy that brought him out of a post-Lemon funk and Wade and Zoe got it together long enough to make things official. In a town where doing what is "right" is more important than doing what makes you happy, the characters on Hart of Dixie are living their lives their own way, opinions of others be damned. But what happens when they come across people not exactly thrilled by their recent choices?
On the next episode of Hart of Dixie, two BlueBell couples will encounter people in their lives who don't approve of their relationships. While Lemon and Magnolia eventually piece together the identity of Brick's secret girlfriend, joining forces to try and run her off, George and Zoe are forced together by his parents, who have come to town and disapprove of his relationship with Tansy. They then decide to make the George have to confront his feelings for Zoe in an attempt to get them back together, only both are seeing other people who they really like. When they finally get the time alone, what will come out of George and Zoe's conversation?
Elsewhere on Hart of Dixie, a mysterious stranger blows into town and enchants AnnaBeth, but Lavon grows suspicious and takes it upon himself to uncover the man's real identity.
Hart of Dixie airs Tuesday at 8:00 on The CW. You can check out photos from the episode here, as well as spoilers for two upcoming episodes here.
Who do you think the new man in town actually is? What do you think about each of the "mismatched" couples this season? How will George and Zoe take the manipulation from his parents?
http://www.youtube.com/watch?v=1u7WJNaJIv0