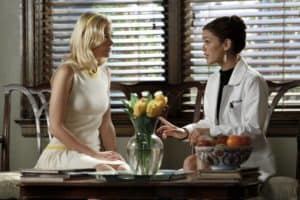 Lemon Breeland found a bit of purpose in becoming Lavon's campaign manager this season on Hart of Dixie. After breaking up with George, she had been lost as to the type of woman that she wanted to be or the direction that her life was going, but teaming up with Lavon to (successfully) take down Ruby gave her the sense of accomplishment that she had been missing.
Which, thankfully, spills over into post-election life, where it's time to figure out what to do next. Lemon ultimately decides to go into the catering business and asks AnnaBeth to partner up with her; the two have grown closer in recent weeks and both could benefit from the freedom that a new business venture could bring. Unfortunately, it looks like AnnaBeth already had the idea to go into catering and she's not exactly jumping at Lemon's offer to join forces. You can understand AnnaBeth wanting to do something on her own and to be a "me" after being a "we" for so long, especially since there's awkwardness between her and Lemon about Lavon. However, it'd be in both of their best interests to band together and prove that BlueBell women are stronger than anyone imagined.
Elsewhere on Hart of Dixie, Rose's crush Max has become enamored with Zoe, only the good doctor can't simply tell him that he has no chance and to focus on girls his own age. Not when he's a volatile star football player who doesn't take heartbreak too well – BlueBell is, of course, very into football and they won't accept anything (or anybody) that could cost them a victory, including Zoe Hart. But will she agree to string him along until after the game, particularly since it'll likely mean hurting Rose in the process?
Hart of Dixie airs Tuesdays at 8:00 on The CW. You can check out an additional preview for the episode here, as well as a recap of the most recent episode here and the TVOvermind Hart of Dixie discussion forum here.
Do you think that Lemon is on the right track by getting into catering? Should AnnaBeth forego opening her own catering business and join forces with her friend? Can Zoe find a way to let Max down gently and keep his mind focused on the big game?
http://www.youtube.com/watch?v=cgWXLEvd0Ks