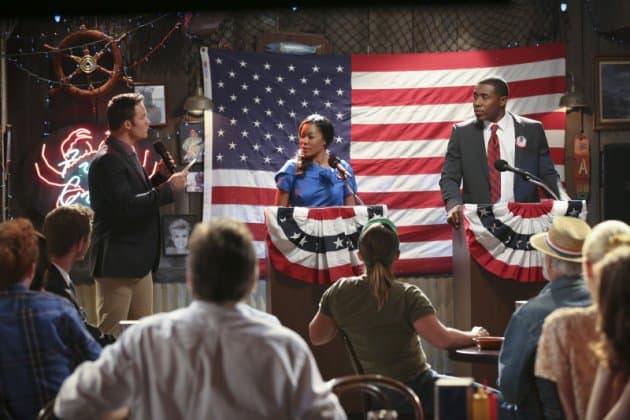 One of the major plotlines of the second season of Hart of Dixie has been the emergence of Ruby as an adversary to both Lavon and Lemon. The former cosmetics queen moved back home to BlueBell to help her grandfather, but with that trek from Atlanta came an opportunity to get revenge on her ex-boyfriend for their awkward break-up and continue cutting the town debutante down to nothing for her own personal enjoyment. Once Ruby decided to run for mayor, it lit a fire under Lavon and Lemon, allowing them to put aside their history in order to ban together and bring down the woman trying to disrupt life in BlueBell.
On tonight's episode of Hart of Dixie, though, one of them finds their feelings softening toward Ruby and I don't know how much the other can do to stop it. Lavon and Ruby have gotten on better terms recently, the latter owning up to her poor behavior and seemingly ready to start fresh. However, before the two can begin again, they have to finish the BlueBell political season and find out who will be running the town; it's finally election day in BlueBell and the race has never been closer between Lavon and Ruby, so every single vote will make a difference in the outcome and, indirectly, help shape the future of the town. With George, Wade, and Zoe helping to canvass the town in order to find any and all undecided voters, will Lavon and Ruby be able to give their romance another try, regardless of the election results?
Hart of Dixie airs tonight at 8:00 on The CW. You can check out photos from the episode here, as well as a recap of the most recent episode here and the TVOvermind Hart of Dixie discussion forum here.
Who do you think will win the race for Mayor of BlueBell: Lavon or Ruby? Would you be supportive of the two giving their relationship another shot following campaign season? If they do decide to go there again, how will Lemon and Zoe react to the news?
http://www.youtube.com/watch?v=C9aLa0-Kews
http://www.youtube.com/watch?v=Spz1uPc8hiA