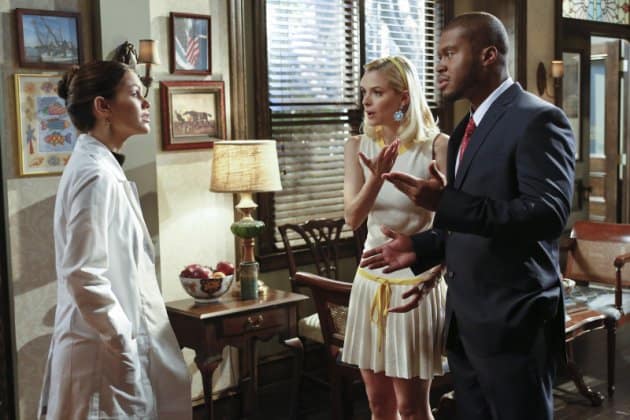 Now that Lavon and Ruby are giving their relationship another go, Zoe and Lemon might finally have something to bond over: hatred/distrust of Ruby. While they're happy that Lavon has found someone to make him happy, Ruby hasn't been the most trustworthy resident of BlueBell this season on Hart of Dixie, so it's hard to take her assurance of change at face value. Lemon, in particular, will have a hard time dealing with the new couple, made up of her high school bully and the man who she's still in love with, but with Dr. Hart on her side, it might be time for the two to investigate Ruby and find out her true intentions for Lavon.
Below are the dates, episode titles, and episode descriptions for the next three episodes of Hart of Dixie, including the fall finale on December 11th.
Tuesday, November 27th – "Achy Breaky Hearts"
Both Zoe (Rachel Bilson) and Lemon (Jaime King) are having a difficult time accepting Lavon (Cress Williams) and Ruby's (guest star Golden Brooks) new relationship, so they decide to find out Ruby's true intentions. Wade (Wilson Bethel) agrees to supervise a Little Ranger's camping trip to avoid a potentially awkward conversation with George (Scott Porter.) However, when George unexpectedly shows up on the trip, Wade has nowhere to hide, and their talk makes him see his relationship in a different light. Meanwhile, Brick (Tim Matheson) wants to take the next step in his relationship with Emily (guest star Mary Page Keller, "Duet"), but is shocked about who is not on board with the plan.
Tuesday, December 4th – "Sparks Fly"
Wade struggles with feeling like he's a placeholder in Zoe's life, so he decides that they should go on a date. Despite Zoe's apprehensions, she decides to bid on Wade's basket at the upcoming charity picnic auction, but is surprised that she is not the only one interested. Lemon mistakenly wins Lavon's basket and decides to keep her true feelings for him to herself and instead offers some advice about his relationship with Ruby. Meanwhile, George is interested in dating Tansy (guest star Mircea Monroe) and creates a basket that he hopes she will bid on.
Tuesday, December 11th – "Blue Christmas" (Fall Finale)
Zoe finds herself anxious that her ever-critical mother will be visiting BlueBell soon for the holidays. In order to avoid spending quality time with her mother, she busies herself with a patient but potentially ruins Christmas Eve for the whole town. Trying to fix the problem, Zoe upsets Wade by turning to his dad (guest star Christopher Curry). Meanwhile, Lavon is desperate to make the week special for Ruby, but his plan goes awry when Lemon gets involved. Elsewhere, George is struggling with picking out the perfect present for Tansy.
Hart of Dixie airs Tuesdays at 8:00 on The CW.
Will Wade and George talk through a lot of their issues on the camping trip with the Little Rangers? Do you think that George should go after Tansy? Are you supportive of Lavon and Ruby giving their relationship another try, even after all they've been through?