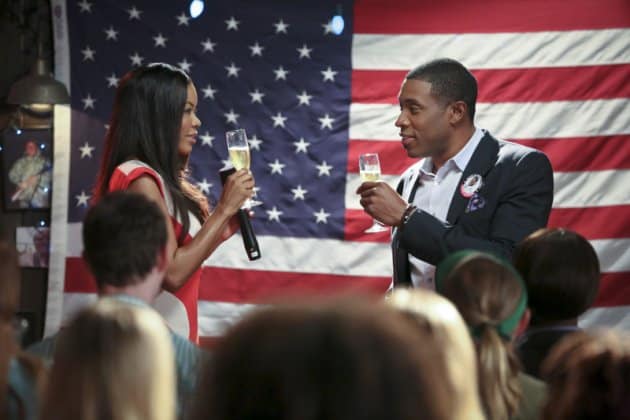 A theme that has been running through Hart of Dixie from the beginning is that the past doesn't disappear because you want it to. Your actions and choices follow you wherever you go and it takes a mighty effort in order to get past whatever issues that may be haunting you. For instance, Lemon, George, Wade, and Lavon have spent much of the second season of Hart of Dixie trying to figure out who they are and whether who they were previously is an accurate representation of who they want to be going forward. It's no surprise, then, that a romance from long ago will be rekindled, as growth and the weight of experience can change a dynamic between two people for the better. But who is going to give it another go later this season?
Below are the dates, episode titles, and full episode descriptions of the next two episodes of Hart of Dixie.
Tuesday, November 13th – "I Walk the Line"
With the upcoming Mayoral election looming, Lavon (Cress Williams) and Ruby (guest star Golden Brooks) continue to be tied in the polls, leaving Lemon (Jaime King) no choice but to use some creative methods to win. Elsewhere, George (Scott Porter) and Wade (Wilson Bethel) are also tasked with trying to secure some last-minute votes, but run into a problem when Wade's ex-wife Tansy (guest star Mircea Monroe) refuses to cooperate with their scheme. Meanwhile, Zoe (Rachel Bilson) and Magnolia (guest star Claudia Lee) grow concerned when they notice that Brick (Tim Matheson) has been unusually grouchy and Zoe tries to help by offering to give Magnolia driving lessons.
Tuesday, November 20th – "Baby, Don't Get Hooked on Me"
After Zoe treats the high school football team, she learns that Max (guest star Nicholas Podany), who happens to be Rose's (guest star McKaley Miller) new crush, has become infatuated with her instead. Eager to nip his crush in the bud, Zoe learns that Max is prone to overreacting to heartbreak and is encouraged by the town to wait until after the big game, as they are counting on him to win. Lemon decides to start a catering business and asks AnnaBeth (guest star Kaitlyn Black) to join, but Lemon is taken aback by her answer. Meanwhile, Lavon tries to win over Ruby's grandfather Sergeant Jeffries (guest star Charlie Robinson) by doing his chores, but Lavon finds out there is another reason her grandfather doesn't want them together.
Hart of Dixie airs Tuesdays at 8:00 on The CW.
Who will become the next Mayor of BlueBell? What do you think about Lavon and Ruby pursuing a romance? Will Lemon be able to get her catering business off the ground if AnnaBeth doesn't join in?