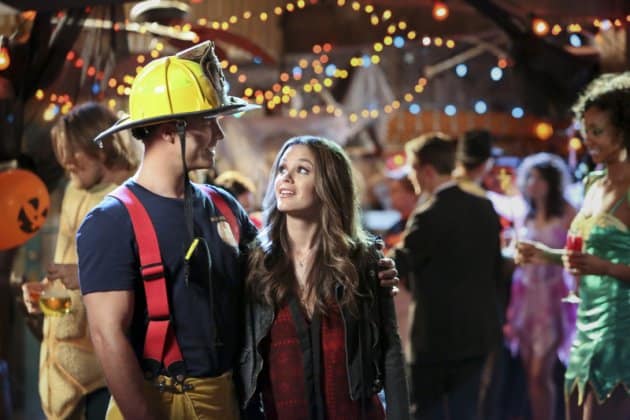 On the last episode of Hart of Dixie, Zoe made another choice – the choice to be happy. For years, she had tried to stick to the "ideal" version of her life and held everything to that standard that she had set for herself. Rather than embracing what actually does make her happy, she kept chasing what should make her happy, but following her conversation with Wade about "changing the picture or changing your life," Zoe decided to change her picture. Things with Wade were now back on, despite how much she's tried to tell herself that their situation wasn't good, due to the fact that being with him makes her happy.
On the October 30th episode of Hart of Dixie, titled "Walkin' After Midnight," that happiness will be tested, but it's not Wade doing the heartbreaking this time. It comes up that George has been sleepwalking and going into her home, which leads Dr. Hart to conduct a sleep study on her one-time crush. However, the study, done to keep George from potentially hurting himself (or someone else) while asleep, runs into plans that Zoe had with Wade. Will the bartender be understanding about the sudden inconvenience, or will this undo whatever emotional progress he's made in recent weeks?
Meanwhile on Hart of Dixie, Annabeth has come up with an idea meant to help Lavon seal a victory in the coming election and defeat Ruby once and for all. Lemon, though, doesn't like what her friend has cooked up;  triumphing over Ruby, bonding with Lavon, and finding a sense of purpose through her role as campaign manager are all quite important to her right now, so Annabeth's plan must really be something to get Lemon uncomfortable. Will Lemon go through with it for the sake of the election?
Hart of Dixie airs Tuesdays at 8:00 on The CW. You can check out my recap of last night's episode here, as well as photos for next week's episode here and the TVOvermind Hart of Dixie discussion forum here.
Who do you think has the best costume, judging from the photos? How will Wade handle having his plans with Zoe cancelled due to George? What will Annabeth's plan to help Lavon beat Ruby consist of?