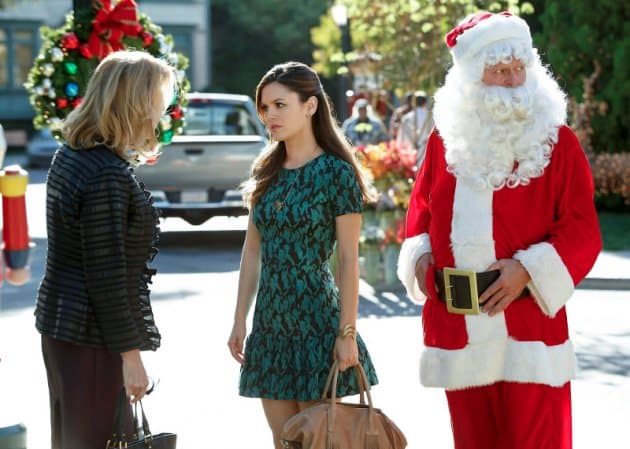 Even though Zoe Hart has good intentions in most everything she does, things don't always pan out for her. For much of the first season of Hart of Dixie, she was the town pariah and the harder she tried to fit in, the more she alienated herself from the rest of BlueBell. Season two has found the good doctor with a much lower public profile but with a much more dramatic love life, which will continue next week.
On the winter finale of Hart of Dixie, Zoe potentially ruins Christmas for the entire town of BlueBell and hurts Wade's feelings in the process, as she turns to Crazy Earl to bail her out of a jam. From the looks of the preview below, she'll be asking him to fill in for the town Santa, who may have been put out of commission by a bad diagnosis or injured due to something that Zoe did. With her mother coming to town, she has a reason to want everything to be perfect this holiday season, but in doing so, she may have cost herself any chance of a real relationship with Wade.
Things might be going better for Dr. Hart in recent weeks and though she may be getting more comfortable in BlueBell, she can't afford to burn any bridges with the closest people in her life.
Elsewhere on Hart of Dixie, Lemon can't seem to get out of the middle of Lavon and Ruby's relationship, this time disrupting the special week he planned for her, while George is on the hunt for a perfect present for Tansy.
The winter finale of Hart of Dixie airs Tuesday at 8:00 on The CW. You can check out a recap of the most recent episode here.
Will Zoe repair the damage that she did to BlueBell Christmas and her relationship with Wade? Is Lemon intentionally trying to sabotage Lavon's relationship or is her subconscious doing most of the dirty work? What will George end up getting Tansy for Christmas?
http://www.youtube.com/watch?v=pvTnVAjRC2o