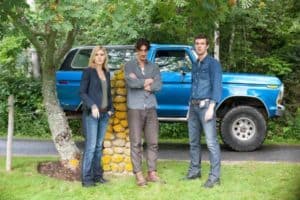 Almost two weeks following its September 30th season finale, Haven has been renewed for a third season by Syfy. The Friday night drama put up solid, steady ratings this past season and has been a nice companion piece to WWE Smackdown.
Based on the Stephen King novel The Colorado Kid, Haven follows FBI agent Audrey Parker as she investigates a small town in Maine that's dealing with a variety of supernatural afflictions known as The Troubles. The deeper she goes into the town's mysteries, the more she realizes that there may be a reason she was sent to Haven. The show stars Emily Rose (John from Cincinnati), Lucas Bryant (M.V.P.), Eric Balfour (The Texas Chainsaw Massacre), Richard Donat (The Weight of Water), and Stephen McHattie (300).
Haven returns December 6th for a stand-alone Christmas episode titled "Silent Night", with its third season premiering summer 2012. Syfy has recently granted renewals to Warehouse 13 and Alphas, while announcing that the upcoming season of Eureka will be its last.
To read a recent interview with co-star Lucas Bryant addressing Nathan's future with Audrey, be sure to click here.
How did you enjoy season two of Haven? Where do you think the show will go from here? What do you expect the Christmas special to be like?