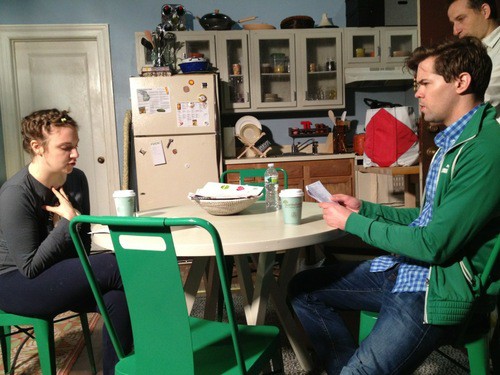 HBO has announced the premiere dates for the second seasons of comedies Girls and Enlightened. Beginning on January 13th at 9:00, the 10-episode sophomore run of critical darling Girls will commence, while the Mike White comedy Enlightened will return from a year-long hiatus at 9:30. Both will be airing in a different timeslot than they did during their previous seasons, as Girls premiered this spring at 10:00 with Veep and Enlightened was paired with Bored to Death during HBO's brief foray into Monday night programming.
In addition, the two will have the rare task of airing on a night without a drama, as the sudden cancellation of Luck left HBO without an hour-long ready to air come January. Last January, the network debuted the horse racing drama from David Milch at 9:00 and doubled up episodes of Chris Lilley's Angry Boys at 10:00 and 10:30, respectively.
Girls follows aspiring writer Hannah Horvath, a woman in her early 20s looking to find her way in her career, love life, and friendships with her group of friends. The quartet of Girls are all struggling to make their dream life in the city become a reality, faced with the harsh reality of adulthood and the current economic climate, but they've been able to get by thus far on their strong support system. Guest stars for the upcoming season include Patrick Wilson and Donald Glover.
Enlightened focuses on Amy Jellicoe, fresh out of rehab following a breakdown at her corporate job. Once she comes back, though, the former shark has become an angelfish, hellbent on bringing the company down for its environmental crimes. But can she go after such a large entity while still maintaining the lessons she learned in rehab and holding on to her noble intentions? Guest stars for the upcoming season include Dermot Mulroney and Molly Shannon.
Do you think that HBO made the right decision in pairing Girls and Enlightened? Would you have liked them to put the shows with a drama for a full night of programming? Will you be watching both, one of, or neither Girls or Enlightened?