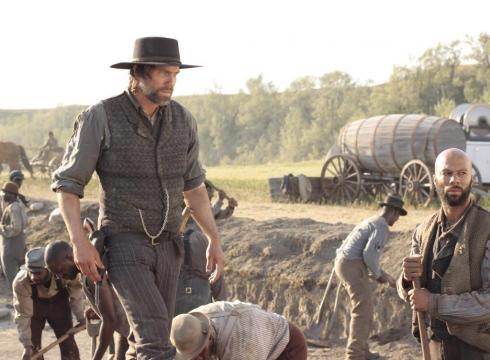 In preparation for the second season premiere of Hell on Wheels on Sunday, August 12th at 9:00, AMC will be airing the first season in its entirety leading into the new episode. Beginning at 11:00am, viewers can be reintroduced to rugged former soldier Cullen Bohannon as he goes on a quest of vengeance that will lead him to some of the most powerful men in the railroad industry. But once he arrives at Hell on Wheels, gaining a supervising job in the process, information proves to be hard to come by and he may have to form a few friendships in order to make progress in his search for justice.
Below are the initial times, episode names, and episode descriptions for the Hell on Wheels marathon.
11:00am – "Pilot"
A Western about a former Confederate soldier (Anson Mount) and his quest for revenge on the Union troops who killed his wife. In the premiere episode, he heads west to take a job helping to construct the first transcontinental railroad.
12:02pm – "Immoral Mathematics"
Cullen's deadly actions leave him in a battle for his life; Lily fights to survive her plight in the wilderness; Durant tries to turn a tragedy into a political advantage.
1:02pm – "A New Birth of Freedom"
An unexpected obstacle impedes Cullen's search for the sergeant; Durant convenes a search party to track down Lily in the wilderness.
2:03pm – "Jamais Je Ne T'oublierai"
Cullen's search for the sergeant nears its end; Durant keeps to his hidden agenda while assisting in Lily's recuperation.
3:04pm – "Bread and Circuses"
A bare-knuckle brouhaha between Elam and Cullen is spurred by Durant's latest attempt to deal with the railroad's financial crisis.
4:05pm – "Pride, Pomp, and Circumstance"
Durant challenges the Cheyenne to a competition in an effort to bring a halt to ongoing negotiations. Meanwhile, Elam and Cullen try to prevent bloodshed in town.
5:05pm – "Revelations"
Elam's life hangs in the balance, leaving Cullen with a monumental decision to make. Meanwhile, Durant risks his financial fortune, and Lily confronts her late husband's relatives.
6:06pm – "Derailed"
Elam and Cullen are assigned a mission of vengeance by Durant. Meanwhile, Lily tries to settle in at the settlement.
7:07pm – "Timshel"
A looming railroad deadline throws Cullen and Lily together; Joseph and Elam deal with what their violent mission has wrought.
8:08pm – "God of Chaos"
In the Season 1 finale, Cullen's past and future collide, impacting his life on the railroad.
In addition to Mount, Hell on Wheels stars Common as freed slave Elam Ferguson, Dominique McElligott as surveyor's widow Lily Bell, and Colm Meaney as VP of Union Paciifc Railroad Thomas Durant. The show is currently available on Blu-Ray, DVD, and Netflix Instant.