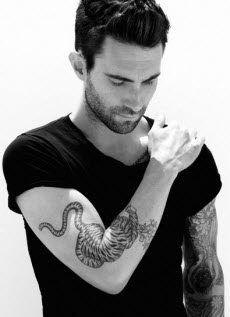 It's easy to see how Honey Boo Boo COULD be interpreted as the fall of Western Civilization, but you're not exactly hearing many public figures say that outright. But The Voice judge Adam Levine had no problem railing against the show in a recent interview with GQ. It's the new Jersey Shore in the sense that it's everything wrong with our country and TV today.
After describing the show as an atrocity, the singer proceeds to drop a few f-bombs. "That show is literally The. Worst. Thing. That's. Ever. Happened. It's complete f*cking ignorance and the most despicable way to treat your kids. F*ck those people. You can put that in the magazine: F*ck those idiots. They're just the worst. Sorry, I'm so sensitive to that — like, I don't know, man, it's upsetting. Just to clarify, I said, "F*ck THOSE PEOPLE."
So, to be clear, he's not a fan? Understatement of the year I suppose.
"Those idiots" however are getting at least $10,000 an episode, probably more now that the show has gotten popular. That's a lot off cheeseballs to feed your kids for breakfast.
Is Honey Boo Boo that bad? I see it as a family that loves each other, which is nice to see, but their habits are just so horrible. I'm not religious, but being a grandmother at thirty something while feeding your kids and yourself liquefied butter is borderline sinful to me. And conversely, it's not exactly healthy for our country to point and laugh at them either.