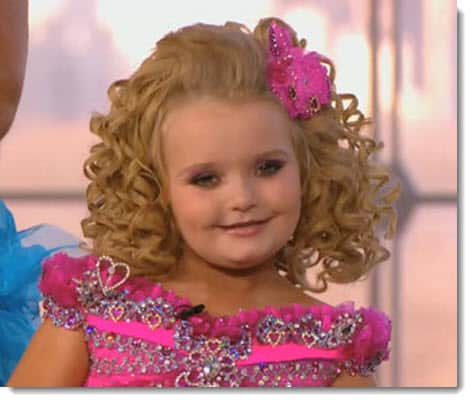 Wait a minute, I thought round was a shape?  The always outspoken Abby Lee Miller had some typically direct advise for Honey Boo Boo when TMZ ran into her on the street.  When TMZ's 'journalist' asked Lee Miller if she had been watching Honey Boo Boo she said "Not Much!"  Then proceeded to a lightening round of advice "She needs to get in shape, she needs to be at a dance studio, she needs to be training, she needs to work on her turnout, the whole nine-yards."
As to whether or not her own show, Dance Moms, was exploiting children Miller explained that as a dance teacher her goal is to get kids ready for television, stage, the movies, you name it, so in her mind she is simply achieving her goal.  As for Honey Boo Boo, Miller passed on the opportunity to knock the show stating that their numbers were better than the Republican National Convention, so they must be doing something right.
Personally I won't consider it exploitation until Go Go Juice becomes commercially available and they put Honey Boo Boo's face on the label.  That would just be taking things too far.