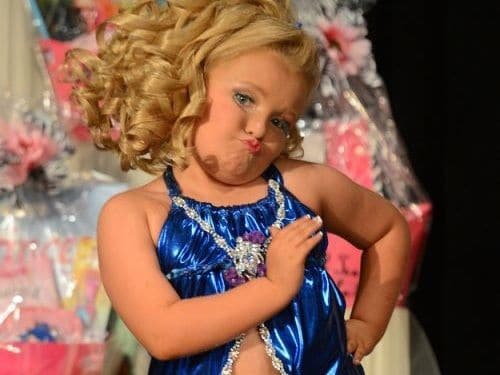 When Honey Boo Boo grows up, stories like this will dog her everywhere she goes.  Why do television producers continue to do this to children?
It should surprise no-one that the meanies at TMZ are somehow involved in this.  They took a break from mocking seriously ill senior citizens to turn a run in with Dancing With the Stars' Karina Smirnoff into an opportunity to bash America's favorite red-neck child, Honey Boo Boo.
When TMZ's 'journalist' ran into Smirnoff, the most pressing question they could think of was whether or not Honey Boo Boo would ever be invited to Dancing With the Stars.  Hey, she has more celebrity cred than Bristol Palin, why not?
"I don't think that should happen." Smirnoff said, in a soul-crushing dead-pan voice. What about Honey Boo Boo's mom? Mamma June? "No … I think we're pretty good with the people we have on the show."
Now wait just a minute.  Honey Boo Boo is clearly too young, but who doesn't think Mamma June would be marketing gold for Dancing With the Stars?  Can you imagine June grinding it on the dance-floor with Honey Boo Boo rooting her on from the bleachers.  Picture June getting her signature score, all 1's across the board for a 3, and Boo Boo waddling from the bleachers to cuss out Len. TV Gold my friends, TV Gold.