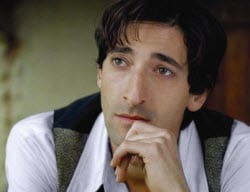 History has recently proven themselves a player in scripted TV with the success of Vikings, and now they've attracted Oscar-caliber talent to their next dramatic outing. They've recruited Adrien Brody to play Harry Houdini for an upcoming miniseries about the life of the famed escape artist, similar to the vein of Kevin Costner starring in last year's Hatfields & McCoys.
Here's what History's Dirk Hoogstra had to say about the news:
"It's not magic that HISTORY has established a strong track record with its high-quality historical dramas from quality auspices. We're excited to build on that tremendous momentum with 'Houdini.' The Great Harry Houdini is a fascinating man in history and I have no doubt that Adrien Brody will bring the magician's riveting story to life for our audience."
And here's what Brody himself said about playing the famed magician:
"Since my childhood, when I dreamed of being a great magician, Harry Houdini has been one of my heroes. His bravery and obsessive determination still fascinate me. Houdini mastered the art of escape — not only from physical chains, but from poverty and the social constraints of a humble immigrant origin. His life story appeals to the universal longing for acceptance with which we all can identify. To portray him is beyond an honor."
Brody has played many historical figures over the years, including Wladyslaw Szpilman, the role he won an Oscar for in The Pianist. Houdini himself was last seen onscreen played by Guy Pearce in 2007′s Death Defying Acts.
Houdini is a fascinating figure and I'll look forward to seeing what History and Brody come up with. I would look for it some time in 2014, but there are no specific air dates as of yet as production is just starting in the fall.