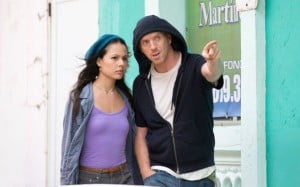 Last night's episode of Homeland finally saw the return of Damian Lewis's Nicholas Brody, but probably not in the way that most of us would have thought. When we first see Brody at the beginning of "Tower of David," he's being ushered into a truck, being taken away to an unknown location, two bullet wounds in his stomach. This was the beginning of what would be a very dark episode for Brody, one that would find him (along with Carrie) alone in a dark room, body filled with drugs, waiting for something, anything, to set him free from his misery.
By the end of last night's Homeland, both Brody and Carrie had hit rock bottom, and while I applaud Homeland for not skimping away from the consequences of the two lovers' actions, I do wish that the series would start to gain some forward momentum as season three progresses. So far, we are three episodes into Homeland's third season, and while the show has expertly explored the aftermath of the Langley bombing, placing Carrie and Saul at odds with one another and forcing Brody to hide away with some very shady associates of Carrie while he has a $10 million bounty on his head, it has not marched forward with any new future storylines yet. Instead, Homeland seems complacent with simply dealing with the ramifications of last season, and even though that's an important thing to do for the show's characters, it has led to a very stale start to season three.
Shifting back to last night's episode of Homeland, we discover that Brody is being held in Venezuela (Caracas to be specific) after beign shot by Colombians. We know that there is a $10 million price on his head, and that he can only find protection with allies of Carrie. However, Carrie's associates are not exactly the most moral or understanding of hosts, as Brody sees when they unflinchingly murder a man who stole from him or have their doctor consistently shoot Brody up with heroin to numb the pain of his injuries.
Fortunately, Brody does find some solace in the company of a young girl, the daughter of the group's leader, who assists him in his rehabilitation and eventually tries to help him escape the complex.  When Brody sees the opportunity to flee, he heads for safety inside of a mosque but is only there for a brief amount of time before police are pulling him out of the shower and placing him custody, as the imam of the mosque tells him that he is not a Muslim, he is a terrorist. Brody's arrest is only momentary, however, because as soon as the cops open up the door to the mosque, members of the group protecting Brody kill the police officers, imam, and the imam's wife in cold blood before throwing Brody in, essentially, a prison cell, where with nothing and no one there for him anymore, he decides to shoot himself up with heroin, mentally escaping the prison that he is not able to physically escape from.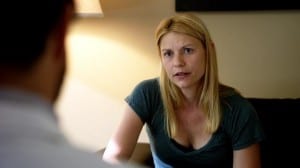 Similar to Brody, Carrie is also numbing herself with drugs, although in her case, it's lithium instead of heroin. While Carrie has claimed before that the drugs have dulled her and not allowed her to always see the "big picture" that is in front of her eyes, she, like Brody, is so desperate to escape the prison that she has been placed in that she will do almost anything that she has to in order for her to be able to leave the psych ward with Saul, who she believes is the mysterious man that has been checking in at the hospital for the past couple of weeks, attempting to visit Carrie.
However, it turns out not to be Saul. Instead, it is a man that we have never met, a worker from a law firm that requests Carrie meet his partner. Even though this man presents Carrie with exactly what she has wanted (an opportunity to leave the psych ward), she doesn't trust him. As they discuss his intentions, Carrie immediately jumps to the conclusion that he and his partner are working for the Iranians or some other Middle Eastern entity and that they are trying to use her to turn against the CIA, and by doing so, America. Therefore, instead of obtaining her freedom and reuniting with her family, Carrie resigns herself to sit alone in the dark corner of her room in the psych ward, with no comforts or hope, exactly the same position that Brody finds himself in at episode's end.
"Tower of David" is one Homeland's bleakest episodes yet. It takes its two main characters, Carrie and Brody, who, despite everything from the past two seasons of the series, still found hope and love in their relationship and isolates them to such extremes that their only means of relief are found through drugs. Both are prisoners, in a certain sense, with no feasible means of escape in front of them at the moment. I'm not sure how Homeland moves forward with either Brody or Carrie from here. This is most certainly rock bottom for both characters, the most desperate situations that they could ever find themselves in, and I do not see any bright future on the horizon for either of them.
However, if Homeland wants to continue keeping the attention of its audience, it needs to stop only focusing on the consequences of last season and allow these characters some opportunities to take action this season. While Homeland's commitment to making its characters deal with real life repercussions is admirable and impressive, I just want to see Brody and Carrie regain some type of agency and start making some new decisions rather than suffering for the ones that they have already made.
What did everyone else think of last night's episode of Homeland?