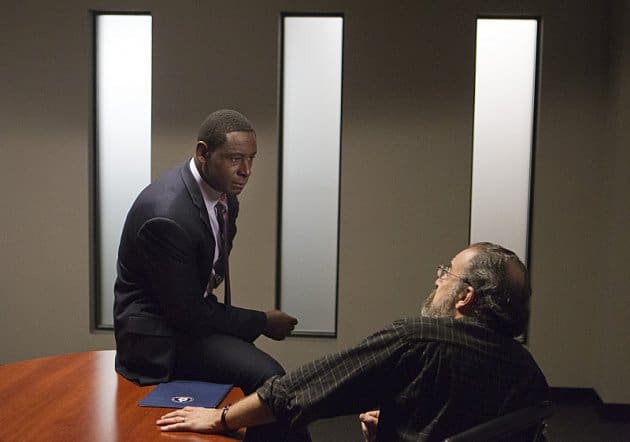 Before Saul could head out with the rest of the team to go after Nazir, he was apprehended on the orders of David Estes. The two had gotten into an argument earlier in last week's episode of Homeland about the real reason Peter Quinn has been sticking around the office, with Saul accusing him of using the former Black Ops soldier to keep Brody quiet about the drone strikes. On the next episode of Homeland, it looks like Saul won't be going anywhere anytime soon as a result.
That's because he's been brought in for a polygraph test; earlier in the season, Saul was in the chair for a polygraph but stormed out of the room before it was over, one of multiple incidents that have raised suspicion of him being the mole. However, Estes isn't exactly on a crusade to flush the office out of people who are up to no good, as evidenced by the near execution of Brody in the limo and his defensive, angry reaction to Saul's accusations. Rather, he wants to keep Saul away from the hunt for Nazir due to his knowledge about Quinn that could derail the plan to take out Brody; if it turns out that Saul is in fact the mole, it'll be a double win for Estes. He'll have killed the one threat to his position in Brody and looked like a hero in cleaning out the department by sacking Saul, but he's got a limited amount of time in which to prove that Saul's the mole.
While Saul is pinned down in a windowless room in a stall tactic from Estes, Carrie and Quinn are out in the field and having a disagreement. Abu Nazir has escaped the mill that he had been staying in and exited through a nearby tunnel, a tunnel that was supposed to be thoroughly checked out but wasn't. Carrie wants to question all the men on the mission regarding whose responsibility the tunnel was and whether or not they saw anything; however, Quinn thinks she's being disrespectful to question the patriotism and loyalty of the cavalcade of ex-military officers on the mission. Carrie can be a reckless, self-sabotaging agent who would be better served by taking a breath before diving into her next conspiracy theory, but she's great at reading people and is very often correct in her hunches, which Quinn knows. Might that fact be the real reason he doesn't want Carrie to address the officers?
Homeland airs Sundays at 10:00 on Showtime.
Do you think that Saul is the mole? Does Quinn have any ulterior motives in trying to keep Carrie from inquiring about the tunnel? Where is Abu Nazir?