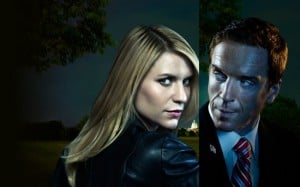 Homeland is one of those "it" shows. Just a show that everyone is singing their praises for, and everyone seems to watch. As many of you who read the site may know, that means I have yet to watch it. It is nothing against Homeland, I just tend to wait until the hype for certain shows dies down. Suffice it to say, you would have to live in a cave to be missing the buzz and hype this show has, especially surrounding the forthcoming season, and with the trailer Channel 4 just dropped in the UK, it looks like that hype may only be getting bigger and bigger.
Rumors are that those behind-the-scenes with the show are calling it Homeland 2.0, and are telling people to get ready for some major changes. So far, all I know about the show is that Claire Danes cries a lot, but outside of that, I know very little and intend to keep it that way. You may be able to get some key elements from this trailer, though, so watch it here and connect the dots. Atleast the one aspect of the show I am familiar with (the crying thing) seems to be in full effects for season three, so that's good.
Homeland is set to return to Showtime on September 29, so tune in and see if season three is everything you hoped it would be (or) makes YOU want to cry.