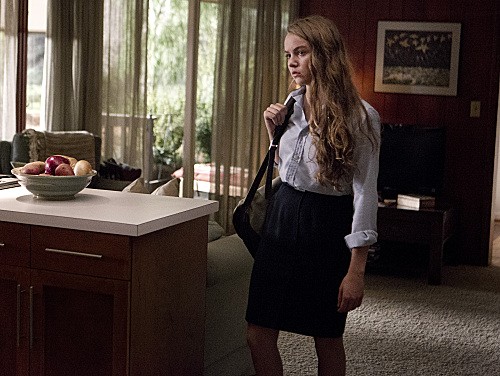 After Dana visited the hospital and saw the victim of the hit-and-run that she and Finn were involved in, it was only a matter of time before she confessed. Dana can be a typical teenager at times, but she's grown since the series premiere of Homeland; with the woman they hit dying in the hospital, she was bound to push Finn a little harder to tell someone about what happened.
Tonight on Homeland, Dana again tries to get Finn to grow a backbone and take some accountability for the night of their first date, but he's resistant to the idea, as expected. Unexpected, however, is him eventually agreeing to tell someone about the accident and the fatal aftermath, though you don't know if he actually means that. Homeland is a series built on half-truths and people hiding their real motives, so Finn could very easily be telling Dana what she wanted to hear and planning to do something to keep her from going to their parents. Considering his reaction to Dana wanting to say something last week, she needs to tread lightly around him and hope that she can get the truth out before he tries to stop her.
Meanwhile on Homeland, Roya turns to Brody for additional help following the events at Gettysburg last week. Due to the fact that they lost a man in the shootout, Brody will have to pick up a bit more responsibility in their operation, which Roya admits will be moving quickly from here on out. However, she won't give him any type of details about what'll be expected to do or when he'll have to do it; Brody can't be at her beck and call right now, not with his current CIA affiliation, and he gets noticeably irritated by the demand she makes on him. Will Brody be able to maintain his cover with Roya and get more information out of her about the plan against America?
Homeland airs tonight at 10:00 on Showtime.
Do you think that Dana should confess to the auto accident? Will Finn go along with it, or will he try to silence Dana before she can tell the truth? Should Brody lend more help to Roya, even though he's currently working for the CIA?