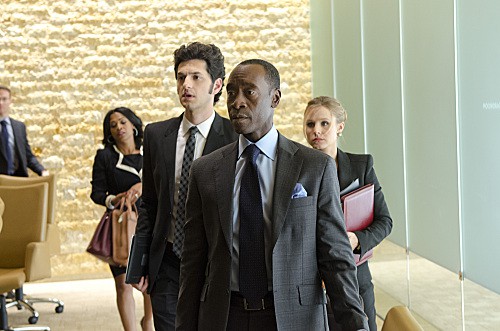 The Pod on House of Lies is used to the extravagance that comes with the title Management Consultant. They've been all over the country, staying in luxurious hotels, eating the finest foods, and indulging in the spoils of every location they land in. It's a lifestyle that could easily leave them with a jaded "been there, done that" attitude and turn what could be an exciting opportunity into something mundane, routine, and expected. However, what happens when they're confronted with an opportunity that puts them that much closer to fame?
On the next episode of House of Lies, the Pod will be welcoming Matt Damon, as the Oscar winner is looking for a charity that will enhance his image. While Marty and Clyde are staying pretty calm about the whole ordeal, Clyde quite cynical about who Matt Damon is behind the public facade, Doug lets it get to him. He's already the most spastic member of the Pod and now Doug has gone into system overload with the news that Matt will be coming into the office to take a meeting with them; in his mind, everything has to be perfect for when the meeting does take place, including cleaning out a conference room and ordering food for a spread. He feels that Matt's different from the stereotype that follows around A-list actors, but is Doug about to have his heart broken with the knowledge that sometimes meeting people you admire can shatter any conceptions you had of who they are?
Elsewhere on House of Lies, Jeannie spends time with Roscoe when Marty can't and Tessa questions Monica about their relationship status following the kiss in the most recent episode.
House of Lies airs Sundays at 10:00 Showtime. The show was recently renewed for a third season.
Will Marty keep Matt Damon as a client? How will Jeannie's time with Roscoe go? Is Monica ready to be with Tessa despite her declaration of being done with dating?