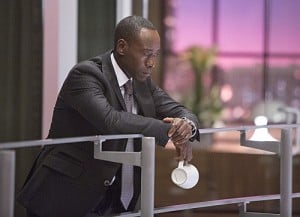 Marty Kaan is ready to get the hell out of Galweather on House of Lies. He's tired of the atmosphere, the leadership, and the fact that while he may be a top closer in the management consulting field, he's still not his own boss. He brings in the money and other people get to cash the checks, so he's going to take his contacts and connections to start up something that could one day rival Galweather and even surpass it. His staff still growing and his anticipation for the move reaching a fever pitch, Marty is willing to forget doing the last of his duties at Galweather to focus on building a solid foundation for his firm, but is that the wisest idea right now?
On the next episode of House of Lies, Tamara puts a stop to Marty's idea of blowing off the Carlson deal to continue planting the seeds for his firm. After being out of the field for six years, she wants to have this win to boost her confidence and properly welcome her back into consulting, so much so that she promises to do "the unspeakable" to Marty if he takes care of the deal. You have to wonder, though, if Tamara has any ulterior motives in sticking so close to Marty and planting the idea of a new firm in his head. Could she be railroading the leading consultant at Galweather and leaving room for herself to ascend to the top of the ranks in his absence? She's not been as committed to the idea of leaving the firm around other people and closing the deal would make her look better to the bosses when they're deciding what to do with the rest of the Pod after Marty leaves.
Elsewhere on House of Lies, Julianne has gotten wind of Jeannie's plans to make a move to New York to work with a rival firm. However, Jeannie denies it and all but pledges her loyalty to Galweather, proclaiming The City that Never Sleeps to be full of hipsters and hypocrites. She's the only one who knows that Marty is about to leave the firm and start one up of his own, so it wouldn't be shocking for her to be BS-ing her way through another awkward interaction with her boss before heading out the door. The thought of heading her own Pod, though, might be too enticing to pass up and Jeannie might actually be ready and willing to stand on her own without Marty around to lead the way.
House of Lies airs Sundays at 10:00 on Showtime.
Do you think Jeannie is telling the truth about her loyalty to Galweather? Should she think about making a move, considering that Marty is headed out the door? Are Tamara's intentions here pure or does she have an ulterior motive for getting close with Marty again?