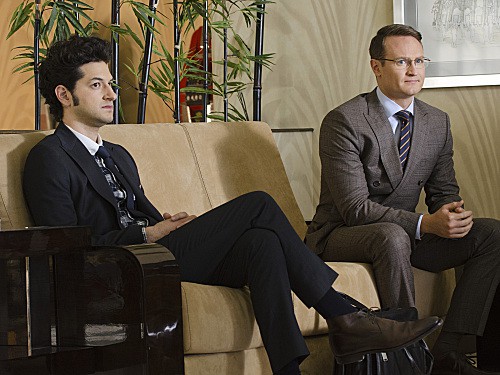 Very rare is the instance when the pod can't get it done. The first season of House of Lies found Marty, Jeannie, Clyde, and Doug able to pull out even the murkiest-looking deal and find a way to win over each of their clients. However, with the addition of Tamara messing up the group chemistry, as well as having to deal with a difficult client to read, the pod from Galweather struck out; they did manage to land a deal with Pinkus' rival Michael Carlson, but are they happy about that?
Judging by a sneak peek from the next episode of House of Lies, not really. While any money is good money and any deal struck makes Galweather look good, the pod is much more defeated than they normally are following a close. The disappointment from not achieving their initial goal and from not being prepared enough to land Pinkus has made the mood less celebratory, in addition to the reality of having to work with a less prestigious and lucrative client. Of course, Doug and Clyde are still going to get wasted, but that would have happened regardless of victory.
Meanwhile, Doug is opting out of a night of debauchery and $2000 champagne to get another massage. As he rambles on to the masseuse about how people in her occupation are undervalued, she asks him if he wanted a prostate massage and he agrees to it. Doug might have been a little too wrapped up in how good the massage made him feel, as well as the lines he continued to feed the masseuse, because he acts a little, shall we say, surprised once the prostate massage begins. How will Clyde, Marty, and Jeannie react to Doug consenting to that particular part of the massage once he tells them what happened?
House of Lies airs Sundays at 10:00 on Showtime.
How will the pod's time in Vegas working for Carlson go? What will Doug tell the rest of the pod about the massage? Will Tamara be able to hang with Marty and the crew for long?