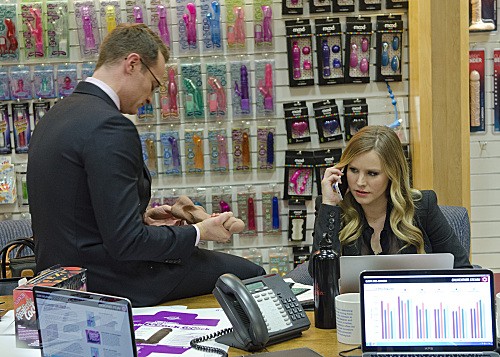 With Marty not being fully invested in the goings-on at Galweather, the other members of the Pod were bound to flail around a bit. Doug, Clyde, and Jeannie may all be strong management consultants on their own and important cogs that keep the Pod as one of the top groups at Galweather, but Marty has been their fearless leader from day one, the man that steers the ship and keeps everything in line. Thanks to the violent incident with the police and his growing discord with Julianne, he's backed away from everything Galweather, meaning that for arguably the first time on House of Lies, the rest of the Pod are on their own.
On the next episode of House of Lies, Doug and Clyde are called in to testify at in a wrongful-death suit filed against a telecommunications conglomerate, leading the former to open up the Doug Hug Emporium in hopes of consoling the latter. Meanwhile, Jeannie and Tamara have a tense sit-down relating to the then-absent Marty, where the newest Pod member reveals that Mr. Kaan's desire to open up a new firm came from her. And that she's not even leaving to join him in her/their creation, opting rather to stay at Galweather and protect her remaining lives in the consulting industry. The fact that Tamara slept with Marty has to sting a bit for Jeannie, but what hurts more is seeing that he might be listening to the wrong person and leaving himself open to being hurt, in addition to his reputation potentially being on the line. While Marty may indeed have nine lives, starting a new firm that's destined to hit the skids might take out more than one of the remaining few, but can Jeannie talk him out of leaving Galweather before it's too late?
Elsewhere on House of Lies, Monica unravels when Roscoe officially moves out, while a casino moguel impedes Marty's efforts to close a deal. Could Mr. Carlson have turned against Galweather after all?
House of Lies airs Sunday at 10:00 on Showtime.
How will Jeannie act around Marty after finding out the influence Tamara has on him? Will Monica be able to keep it together without Roscoe? Is Marty just about done with Galweather?