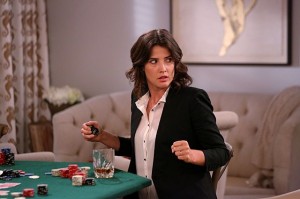 It is 48 hours until Barney (Neil Patrick Harris) and Robin's (Cobie Smulders) big day in the latest How I Met Your Mother episode entitled, "The Poker Game." So, like most married couples they are hurriedly making final decisions for the wedding.  Nope.  The couple is actually in a high stakes poker match with their friends and family that results in James (Wayne Brady) losing his wedding ring and Barney's mom (Frances Conroy) losing her blouse.
It is during this poker game that Ted (Josh Radnor) mentions he has bought Barney and Robin three wedding gifts! Wow, what a great friend.  When Lily (Alyson Hannigan) hears this she becomes instantly angry.  She telephones Marshall (Jason Segel) to tell him the news.  Marshall is still on his road trip with Daphne (Sherri Shepherd), which I hope will come to an end quickly.  Marshall's part can be more integral to the storyline if he is in Farhampton with everyone else.  Lily and Marshall believe Ted never gave them a wedding gift and are miffed he took the time to get three for Barney and Robin.
Lily and Marshall were married in May 2007.  It is hard to believe the fact of Ted getting or not getting them a gift was not brought to light for six and a half years.  Like most people, if my best friend did not buy me a wedding gift, I would ask them about it right away.  You are allowed to do that with your closest friends.  This episode does flashback to scenes where Marshall wants Ted to buy him a wedding gift and Ted wanting Marshall to send a thank you note for the coffee maker he got them.  Though these scenes are humorous, I find this concept unrealistic.  Ted is the most thoughtful character on television, so Lily and Marshall should have assumed he got them an extravagant wedding gift.  Ted admits to doing months of research on coffee makers before selecting the correct one for the couple.
Viewers did learn three valuable lessons about wedding gifts and thank you notes.  First, Ted suggests one always, "wrap it before you tap it," when purchasing a wedding present and then setting it on the gift table.  Second, Marshall explains to always, "lick it before you stick it," when addressing a thank you card and putting in the mailbox.  This advice may also come in handy somewhere else in life, but I will let someone else explain that to you.  The third lesson viewers learned from this episode is to always give money instead of an actual gift.  That way no one can steal your gift and claim it as their own, which was the case in this scenario.
Now back to the poker game.  After James loses his wedding ring to Robin, Barney begs her to lose the next poker match to his mom so she can give the ring back to James.  Robin declines, and in doing so wins Barney's mom's blouse.  Robin was trying to prove a point that James needs to stop criticizing marriage just because his has gone sour.  She wanted Barney to take her side for once.  In the end, Barney agrees but takes things one step too far.  He tells James and his mother that he will no longer be spending time with them by orders from Robin.  By episode end, Barney's mom has threated Robin to an all-out-war.
There was a flash-forward in this episode. Sadly, it did not involve Ted and the "Mother."  This scene showed Barney post honeymoon.  This means that Barney and Robin do actually tie the knot.  Though we did not get a peek into Ted's happily ever after, we do now know that there is a bright future for Mr. and Mrs. Stinson.